Cougar in the Sun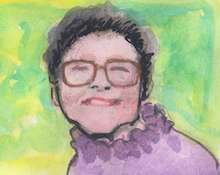 A Parched Hunting Season
By Marylyn Cork
The other evening I glanced out my bedroom window just in time to see my coal-black cat running for his life from a mountain lion hot on his tail. The lion probably would have won the race had Blackie not known there was a hole just his size at ground level in the chain link fence. The cat reached it in the nick of time and shot through the gap. I didn't see him again for two days. Duchess, my lady cat, had watched Blackie's narrow escape from the side of the house. She hid, too, for a while.
The cougar sat in the county road looking disgruntled until I approached the fence to get a good look at him. He was the largest mountain lion I've ever seen, a full-grown cat with feet alone that looked almost the size of dinner plates.
Three mountain lions have come into my yard or very near it in the sixty-five years I've lived here, outside Priest River. Every time I've been alone, but I've never felt fear—just a healthy respect, and a certain amount of caution.