Cheddar Biscuits/Skillet for Two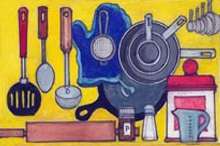 By Amy Story Larson
I love a good, cozy morning meal and have had many a joyous birthday brunch with my sisters, Laurel and Melissa, at a sweet Nampa restaurant by the name of Le Peep. Manager Daniel Williams calls us "familiar faces" and knowing how we like a good breakfast, he shared these recipes. Can't wait to try them.
Fireside Cheddar Biscuits
INGREDIENTS
2 c. flour
1 Tbsp. sugar
1 Tbsp. baking powder
1/2 tsp. salt
4 oz. cold butter, cut into 1/4" cubes
2 c. shredded combined cheeses, as in Monterey/cheddar blend
2 oz. chopped green onions
PREPARATION
> Mix first five ingredients and blend well.
> Fold cheese and green onions into dough.
> Roll mixture, cut into squares, and hand-form into a biscuit.
> Place biscuits on prepared sheet pan, place into 350 degree oven for 12-15 minutes.
> Remove from oven and let cool somewhat before serving.
Skillet for Two
INGREDIENTS
6 oz. canned black beans
8 oz. sweet potatoes, diced 1/2" or longer
2 oz. raw chopped spinach
4 eggs
8 avocado slices
Feta cheese for garnish
PREPARATION
> Heat black beans, keep in food warmer.
> Cook sweet potato fries in fryer.
> Spoon hot beans onto two plates, then spinach, then sweet potatoes. Top each with two sunny side eggs, then avocado slices.
> Sprinkle with feta cheese.