Coyotes in the Canyon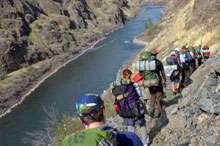 A Spring Break Par Excellence
Story and Photos by Justin Dalme
The jet boat crashed through reflected sunlight, leaving rippled water in its wake as it powered up the Snake River.
The canyon walls loomed above us. It was the last day of The College of Idaho's spring break trip this year to Hells Canyon. Twelve students—ranging from first-time backpackers to experienced outdoorsmen, freshmen to seniors, both genders—spent five days in the folds of the deepest gorge in North America, viewing nature's canvas and hiking more than twenty miles from Granite Creek to Kirkwood Ranch. I'm a communications staff member at the school who went along to take photos, but it was the students' trip, and when I later wrote up this story I wanted to include the viewpoint from at least one of them. I chose Ruth Lewinski, the student leader of the trek.
"The opportunity was a break from book pages, tests, and lectures. Delving into the real world was much needed," Ruth told me. "I've always felt at home in the outdoors. I grew up in McCall, where new adventures constantly awaited my family, whether it was exploring Ponderosa State Park, fishing, skiing, or hiking. My family always had the explorers' mindset, and I feel lucky to have grown up in Idaho.
"We frequently rafted Hells Canyon, and one of my favorite views in the world is looking down on it from Heaven's Gate. But I had never backpacked the Snake River Trail, and the chance to lead this pack of Coyotes to experience a piece of Idaho's backyard sounded great. Backpacking would provide a new perspective on a familiar place—I'd still be in the midst of the canyon, but on the walls instead of the floor."
Each day was its own adventure, its own story, yet the sun was setting on them all now. After our hike down to the river, we had caught the jet boat from Kirkwood Ranch heading back to the dam. As I gazed at the ragged walls shaped by time and weather, it felt to me as if the river were a living timeline and the boat a time machine, retracing our journey along the trail over the previous days.