Crescent Roll Dippers/Pineapple Whip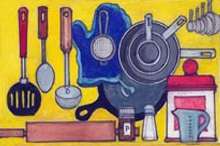 By Amy Story Larson
Crescent Roll Dippers
INGREDIENTS
1/2 lb. deli roast beef, or pastrami, thinly sliced
4 pieces mozzarella string cheese, cut in half
1 8-oz. can refrigerated crescent rolls
1-1oz. packet au jus mix
PREPARATION
> Preheat oven to 375°F.
> Separate crescent rolls into eight triangles. Top each crescent with one slice of meat and one slice of string cheese.
> Roll up and place on baking sheet. Bake for 14 to 16 minutes, until golden brown.
> While crescents are baking, prepare au jus mix as directed. Serve with hot crescent biscuits.
*Optional: For different au jus flavor, you may add a touch of garlic powder, onion powder, cayenne, or black pepper.
Pineapple Whip
INGREDIENTS
1 pineapple, cored, skinned, and cubed.
Coconut milk, as desired
Honey, as desired
Coconut shreds or mint leaves, optional
PREPARATION
> Freeze pineapple cubes.
> Put frozen cubes into food processor. Add approximately 1/2 c. coconut milk or more, and honey, as desired—enough for a smooth blend.
> Whip until smooth.
> To be fancy, load mixture into cake icing bag, with a large star decorator tip.
> Serve by making a swirling, stacking spiral motion.
> May garnish with coconut shreds or mint leaves.