Disjunct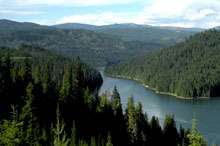 Coastal Forest Thriving in Idaho
Story and Photos by Dennis Pence
Bob, a forester for one of what I call the alphabet agencies, sat in the passenger seat of the pickup as we drove to the Grandad area on Dworshak Reservoir. I had accepted a summer job operating a road grader, blading logging roads in Grandad, and he was the forester in charge.
"Is that red alder?" I asked, somewhat incredulous.
Bob glanced at me wonderingly. "Yeah. Why is that strange?"
"I haven't seen red alder since I left the coast of Washington a few years ago."
"This is the coastal disjunct," he intoned, as if it were common knowledge.
"Coastal what?" I vaguely recalled the usage of "disjunct" as an adjective, meaning disjoined or separated. It's not a word used in everyday conversation, and I'd never heard the term "coastal disjunct" before. Bob used it as if "disjunct" were a noun.
"Plants that are native west of the Cascade Mountains grow here also," he explained. "That's why it's the coastal disjunct."