Combat Fishing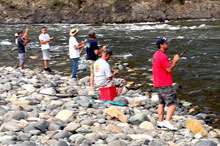 A New Recruit among the Veterans
Story and Photo by Diana Hooley
We drove to Riggins to fish because as a new fisherwoman, I had searched online about where to fish in Idaho in May. When I say "new," I mean I have caught only one small trout in my entire life.
I caught it the previous fall at Baker Creek outside Ketchum. I think it might have been a fluke, because after I caught that one fish, my line got hopelessly tangled on various objects including the rod, several willow bushes, and myself.
Still, I was thrilled to catch the trout. It made me feel like I'd embarked on a new identity, that of fisherwoman. It felt so right, fishing, such a quiet, contemplative pastime. I thought of all those iconic fishing stories about people relaxing on riverbanks and fishing like Huck and Jim did in Huckleberry Finn.