Enchilada Sauce/Chili Relleno Casserole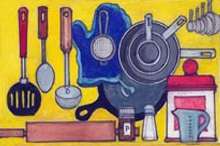 By Amy Story Larson
These recipes come from Mark Bollacker, a widower and retired worker from the funeral services profession, who moved into the house next door in my Nampa "village" this year. It wasn't long before terrific dinner smells were wafting over the fences to his neighbors, making it evident that, hey, this person could seriously cook.
"I enjoy cooking," Mark told me. "That can be blamed on my mother, who was a great cook. Since she had no daughters, she taught my brother and I to cook, iron clothes, and other household duties. I appreciate this more now, not because I'm retired, but because I've been a widower for three years.
"For more than forty years, I was an embalmer and funeral director. There are more men and women coming into the profession each day, but when I first started, there were very few in my profession that cooked or liked to cook."
I moved away from my neighborhood in the fall, and I miss people like Mark Bollacker, Jenny and Raul Enriquez, Rey and Pierce, Matt and September—but their friendship (and recipes!) will stay with me.
Aunt Dorothy's Enchilada Sauce
INGREDIENTS
3 c. tomato paste
1 c. melted butter
3 quarts water
4 Tbsp. paprika
2 Tbsp. salt
2 tsp. cumin
2 tsp. garlic powder
PREPARATION
> Combine all ingredients, and simmer in saucepan on medium to low heat for 30 minutes.
NOTE: Mark's wife's "Aunt Dorothy" made this recipe for many years, as the supervising cook for a junior high school cafeteria. She found it to be "as good, or better" than enchilada sauce purchased at a store, and more economical.
Chili Relleno Casserole
INGREDIENTS
1 can (27 oz.) whole green chili peppers
3 c. shredded sharp cheddar cheese
3 c. shredded mozzarella cheese
6 eggs
3 c. milk
3/4 c. all-purpose flour
1/4 tsp. salt
2 cans (7 oz. each) green chili salsa or one jar (16 oz. ) green chili verde
PREPARATION
> > Split chili peppers lengthwise, remove seeds and pith.
> In a greased 9" x 13" baking dish, line bottom with half of your peppers.
> Dice remaining peppers, set aside.
> Sprinkle cheddar and 1 1/2 c. of the Mozzarella cheese over chilies.
> Beat eggs, flour, milk, and salt in a bowl until smooth. Stir remaining peppers into mixture, and pour over ingredients already in baking dish.
> Bake at 325 degrees for 50 minutes, or until inserted fork comes out clean.
> Mix salsa with remaining mozzarella. Sprinkle over casserole, place in oven for another 10 minutes, or until cheese is melted. Let stand 5 minutes before serving.