Evening Primrose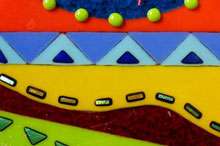 Healing Walks in the Mountains
By Melinda Stiles
On mornings when I wake up on the wrong side of the day, I need only step outside and start walking. The mountains above my home in Carmen, near Salmon, fairly shout, "Oh, for Pete's sake, knock it off. Look at us!"
I am transported from my brooding to admiration of their majesty.
Healing has been slow and difficult after losing Susan, my friend of forty-three years. She and I married brothers. The marriages didn't work but our friendship thrived. We called ourselves sisters-in-law twice removed.
Susan was a gifted artist—potter, weaver, a goddess of glassmaking. For all the years I knew her, she poured tangible beauty into the world. Her colors were bold and bright, her pieces whimsical. You just knew by looking at them that she was a positive, bright soul. Oh, and she could cook. On every visit to our place, she made her famous pizza for my husband and me. She was never too busy or too tired and she chopped every last veggie as though she'd never had more fun in her life. I make it occasionally now but it doesn't taste the same. I'm probably omitting the joy.