Finding Mr. Frawley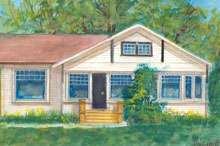 A Journey through Homes, Marriages, and Time
By Nicole Sharp
I feel a bit the way archeologists must as they brush away the dust of the past to reveal something treasured. You see, I stumbled upon a wonderful tale set in the early days of Boise, a gently mannered story with no blood and dust of the early West, but there is tragedy and scandal. I pieced together the bones of this tale, the dates and places. But the retelling, assembling emotions around the circumstances, represents an exercise in historical fortune telling, a difficult thing to do while keeping my 21st Century sensibilities at bay.
This story starts with a house.
During an interview a while back, I found out that an antique store in Boise claimed to have the oldest outdoor "recreational living area" with a fireplace. As a longtime admirer of the tired-old-house-turned-successful-antique-shop, I was intrigued. The story was that the house had been written up once in Better Homes and Gardens. The outgoing proprietors didn't have that piece, but they gave me a few articles that had been passed down to them, oral histories, and a name: Frawley.
Armed with this information, I made my way to the Boise Public Library's website to search through the Daily Idaho Statesman. One search and there he was: Mr. Edward J. Frawley. A thrill ran through me. I've done enough scouring of archives and databases to know that those who came before us didn't always leave a very good paper trail and those that came after them didn't always care about such trails.
The earliest mention in the paper was January 16, 1896: "City attorney Frawley has received the sad news of the death of his father in Wisconsin." Two clues loomed: Mr. Frawley was an attorney and he was from Wisconsin.