How Wild Is Wild?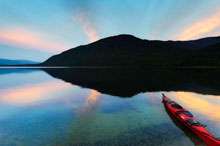 Remote but Not Untouched
By Marylyn Cork
On a junket to the Priest Lake Museum to view a moonshining exhibit in the summer of 2014, I encountered my friend, Kris Runberg Smith, and asked how the book I knew she was working on about Priest Lake was going. She looked at me imploringly. "I just want it to be done," she said. Having co-authored a few books myself, I knew the feeling.
Now, months later, Wild Place: A History of Priest Lake, Idaho is not only done, but published. As a local historian and history enthusiast, I am happy to recommend it to anyone interested in learning about an enchanted place that draws thousands of visitors each year.
The descendant of pioneers, Kris was the perfect person to write this first definitive and documented history of Idaho's northernmost big lake. Her family's history in the area dates back to 1897. She grew up spending summers and vacations at the family cabin at Coolin, a village on the lake's east side, a practice she has continued all her life.