Forget It Cake/Orange Chicken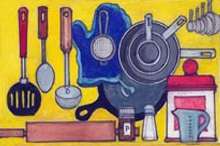 By Amy Larson
Forget It Cake
Cake batter:
2 c. enriched, all-purpose flour
2 c. sugar
2 large eggs, slightly beaten
1 tsp. Mexican vanilla
1 tsp. baking soda
1/3 tsp. salt
Cinnamon and/or nutmeg to taste
Pinch of ground black pepper, and a pinch of cayenne if desired (this will subtly enhance the sweetness of the cake)
1 large can of crushed pineapple, undrained
Creamy Frosting:
½ c. sweet butter
1 c. sugar
1 can evaporated milk
1 c. shredded coconut (you could toast this in the oven beforehand for added flavor)
1 c. chopped walnuts, pecans, or sliced and toasted almonds
PREPARATION
Preheat oven to 350. Combine all ingredients in a bowl. Pour into a prepared 13" x 9" pan, bake until a toothpick comes out clean. (Approximately 30-40 minutes).
Frosting can be made while the cake is baking. Combine evaporated milk, sugar, and butter in a saucepan and heat to boiling. Cook until thickened. Turn off heat and add in coconut and other nuts.
Once cake is done, poke vertical holes into the cake, then pour/spread frosting mixture over the cake and into the holes. Make sure to give the cake a little time to cool before cutting, this will be drenched in flavor!
Top with fresh whipped cream and garnish with a little more cinnamon or nutmeg.
Note: Ever have moments where you suddenly realize you invited extended family or work associates over for dinner that night, and unfortunately, you've totally forgotten and it's already 1pm? So do I. This recipe looks and acts very homemade, like something Mom might spend hours in the kitchen over, but didn't.
The touch of cayenne included in this recipe has some science to it: Cayenne is a known pain reliever, anti-inflammatory, and helps with digestion. Beyond medicinal purposes, cayenne is a contrast with sugar and sweetness. Its sharpness actually enhances the dessert experience. Black pepper is no exception. Used sparingly, this trick is one employed by many a top chef.
Allie's Orange Chicken
INGREDIENTS
3 – 4 chicken breasts
barbecue sauce
orange marmalade
soy sauce
PREPARATION
Slow cook 3-4 thawed chicken breasts, cut into small pieces, on medium in a crock pot for up to two hours. Allow meat to cook in its own juices, no extra water needed.
Combine 1 c. of your favorite barbecue sauce, 1 c. orange marmalade, and 3 Tsp. of soy sauce.
Once chicken is cooked, drain any liquid from it and coat chicken with the marmalade mixture. Cook at the original temperature for another two hours.
Sauce will thicken as it cools.
This can be served over rice, quinoa, and goes very well with stir-fried vegetables.
Note: My friend, Allie, is quite a particular eater. I've seen her push a dish away plenty of times as unworthy for consumption. She attempts to be subtle when it's a "no", but I usually notice the expression on her face that tells me, "Not this one, not today." And then I laugh, because my daughter Erika is equally particular. But Allie's face lights up when her mother makes her a batch of orange chicken, and it's fun to watch her enthusiasm. If it's Allie-approved, you can bet it is going to be good eating.