Mischief on High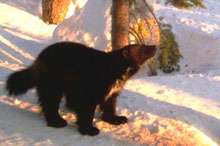 Investigating the Mysterious Wolverine
By Mary Terra-Berns
As soon as I heard that deep growl coming from the trap, time disappeared for me. It was my first wolverine up close and personal, a recapture numbered M333. He was one of the bigger boys at thirty-one pounds, first caught in 1993.
The next several hours were like watching a Nature episode, except I was in it. This was in the Stanley area during the winter of 1995, when little was known about the wolverine, which often was mistaken for a small bear, because many people had never heard of them.
That lack of information was demonstrated to me years ago, when my husband Tony and I took a short hike on Hidden Lake Trail in Glacier National Park. It was a perfect autumn day and we weren't surprised to see a small crowd gathered on the overlook. As we settled on a flat rock a short distance away, Tony spotted an animal running across the meadow toward the overlook. We both immediately realized it was a wolverine and dropped everything. I frantically fumbled for my camera and was able to click off a couple of shots before it loped out of sight. Wow! We could hardly believe our amazing good luck. The crowd on the overlook? Well, they were all excited to see a small black bear.
My familiarity and curiosity about wolverines goes back to my high school days at Wood River in Hailey. High on a wall in the gymnasium was a very realistic painting of a wolverine—its fierce and cunning reputation, strength, and exceptional endurance made it an excellent mascot. The cunning part of the animal's reputation was passed down from trappers who discovered that their cached food or trapline bait had been stolen, and fierceness was the attitude of any wolverine caught in a trap.