Four More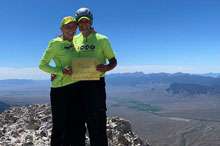 En Route to Conquering Idaho's Forty-Four High Points
Story and Photos by Alice Schenk
In this installment of an occasional series, the author tags four more peaks in a quest to stand atop each high point in Idaho's forty-four counties.
In 2015, the first time I stood on top of Diamond Peak, the fourth-highest mountain in Idaho at 12,197 feet and the high point in Butte County, the sky was hazy with smoke from nearby fires. Climbing up the final section was terrifying (I suffer from fear of heights) and I needed one-on-one help to make the top. I am so thankful to have received that help—twice now.
From the top of Diamond Peak on that day in 2015, we looked across the smoky haze to Bell Mountain, the high point in Lemhi County at 11,612 feet. The mountain was officially named after Robert Bell, Idaho's first state mining inspector. A very distinctive mountain in the Lemhi Range, its top is shaped like a giant Liberty Bell. Standing there gazing into the distance on that day, our group discussed climbing Bell. I finally reached the top of that mountain five years later, last July 11, but only because I am trying to summit the high points in all forty-four Idaho counties. It was the first high point out of the chute during what became a humongous series of high-pointing adventures that summer.
My husband Wayne won my heart again on that day. He is my linchpin and was vital to this climb. When the group of twelve I had originally invited dwindled to zero, Wayne volunteered to climb with me. It was not his preference. He was not in stellar climbing shape (although he is in excellent shape overall) but he made the choice because he knew I could not go alone and desperately wanted to go. On the day of the climb I felt as strong and lean as I was when I competed in Iron Man and ultra runs, and I felt that I was honing my mental toughness. But I also knew that without the research and help of others, I would never stand on top of any of these high points. I couldn't do this alone. Wayne got huge points for connecting the dots and accompanying me.
It meant the world to me to climb on that particular day. I did not wish to wait for another time. I think waiting is such a sad, lonely word: waiting for another person, another opportunity, a break in the weather, or something more significant, like health test results. Life moves on and if you wait too long, sometimes there is no tomorrow.