From Classroom to Chatroom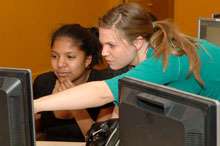 A Teacher's Virtual Odyssey
By Michelle Harmon
Tenzin looked at me with the indifference of a shark passing by in the water.
"Let's read together," I said.
In one fluid movement, she glared at me from her seat and then released her dull gaze back to her homework. When I put the book between us and moved my chair closer, it just deepened her determination to ignore me.
I read aloud from page one, finished the first paragraph, and slid the book over to her to read the next one. No response. I read the next paragraph. For several days, I fished unsuccessfully for her attention. Finally, I moved locations, telling her I would be at my table—in the school library where this class was held—any time she wanted to read with me. As I worked with other students in our study hall period, I caught her considering me every now and then. Weeks later, she sat down and opened the abandoned book.
Her voice was small, airy, unconfident. Her background, I learned from others, was lean: she was poor and fatherless. Her mother, who spoke little beyond their native Tibetan, earned money cleaning houses. My charge was not only ill at ease speaking a second language but guarded and ready for rejection. Yet as our student-teacher relationship took shape, her pursed lips relaxed, revealing gapped and jagged teeth.
Listening to her read, I wanted to correct her pronunciation, but didn't. She had to be reeled in slowly, motivated to read. We got to the point where I read a page, she read a page, I read a page, she read a page. Eventually, she sat by me every day, and when other students took part in our sessions, she read independently.