The Christmas Card Effect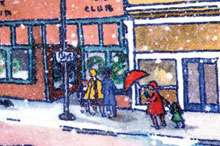 On Cedar Street in the Dark
By Corki Hibbard Mattila
It's strange that I don't remember my family's first drive to Wallace, a week or so before Christmas in 1966.
I barely remember where we stayed, and I couldn't tell you how many days we spent there. I recall looking at a few homes. Mining was on the upswing and there were very few housing choices. One rental, a grand old home built around 1910, stole my heart. Not only was it a huge two-story house with a big front porch and a beautiful interior but it was directly across the street from the high school. What could be better? The buildings downtown were architectural wonders, and the turn-of-the-century homes inspired fanciful imagery in my young brain. Wallace was something to see in those days: two train stations, department stores, small shops, and a few unusual businesses that I knew nothing about. What I remember most from that trip was a dark December afternoon on Cedar Street, when my love affair with Wallace began. Fifty years later, I recall that moment as clearly as if it were yesterday.
I have lived in Idaho all of my life. When my family moved from Salmon to Wallace, I was fifteen. It was a change I had thought could never happen. Graduation from Salmon High School seemed a certainty. How could I leave my lifetime friends? My life had a plan, or so I thought. It included graduation, college at a southern Idaho school, and someday a wedding in our family church.