Fudge/Coconut Chicken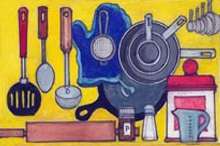 By Amy Larson
Mamie Eisenhower's Million-Dollar Fudge
INGREDIENTS
½ c. butter (1 cube)
4 ½ c. sugar
1 12-ounce can evaporated milk
36 oz. real semisweet chocolate chips (some people like to substitute 12 ounces of milk chocolate chips for 12 of the semi-sweet ounces)
1 16-oz. bag of marshmallows (small or mini)
1-3 c. chopped nuts (depending on how nutty you are!)
1 tsp. salt
1 tsp. vanilla
PREPARATION
Bring butter, sugar, and milk to a full rolling boil in heavy 4-quart saucepan, stirring constantly to prevent scorching. If you overcook, it makes your fudge too hard. If not enough, it won't set up well.
Remove from heat; stir in salt and vanilla. Pour hot mixture into large bowl with the remaining ingredients: Beat until well blended. Pour into greased 13 x 9 inch pan. Cool, then cut into squares. Makes six pounds of fudge.
Tip: Pour into pan and put nuts on one side, and leave the other side plain for those who don't prefer nuts.
Note from Amy: This recipe came to me from Vickie Holbrook, the City of Nampa's communications director, who worked for the Idaho Press Tribune for thirty-four years, the last eighteen as managing editor. Over her career, she received several professional writing awards for news and editorial writing. A member of the Nampa Rotary, she's active in fundraisers, community projects and organizations, and frequently donates her beautiful mosaic artwork. She also teaches art classes and speaks to a wide variety of groups. Vickie and her husband, Darrell, have two grown sons.
CheRee's Coconut Chicken with Mango Salsa
INGREDIENTS
4 boneless, skinless chicken breasts
1 egg
¼ c. water
1 ½ c. shredded coconut
½ c. flour
Dash salt and pepper to taste
2 Tbsp coconut oil
PREPARATION
Pound chicken breasts to ½ inch thickness between two pieces of wax paper. Mix egg and water together. Dredge chicken in mixture. Heat coconut oil in skillet and add chicken. Brown on both sides until chicken is firm and cooked through. Serve with salsa.
SALSA INGREDIENTS
2 mangos, diced
1 jalapeno to taste, finely diced
½ purple onion, diced
1 bunch cilantro, diced
1 lime, juiced
Note from Amy: Treasure Valley resident CheRee Eveland loves to cook. When asked to contribute a recipe, her husband Rich suggested a favorite, her coconut chicken with mango salsa. The mom of sons Rich and Tallen, CheRee also loves to play volleyball, is a voracious reader, and has an amazing talent for connecting people. After twenty-five years in the medical field, she switched career paths and started her own event coordination business. She is currently the manager of a new event center in downtown Meridian.
These recipe pages are brought to you by
THE IDAHO DAIRY COUNCIL