Reverse Burglars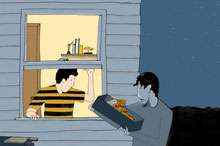 Don't Leave Home without Them
By Khaliela Wright
My son Judah recently left Idaho in search of better wages and a higher standard of living. In Moscow, he was earning $18,720 a year as a software developer— the equivalent of $9 per hour.
In Wisconsin, he's on an annual salary of $35,000 a year, equivalent to $16.82 per hour. The company also provides health insurance and a retirement program, which weren't offered by his employer here. And if he's still with the company in a year, he'll get a raise to $40,000.
Landing the job was easy. Getting himself to Wisconsin was harder.
Approached by a headhunter, Judah's first step was to produce a resume. Then he took a battery of tests, and his credentials were turned over to a company looking to hire in Wisconsin. He was interviewed online and then management asked him to fly to the state for an in-person interview. At age eighteen and without a major credit card, he wasn't able to rent a car when he landed, and neither could he afford cab fare from the airport to the company. Ultimately, the job recruiter rescued him at the airport and delivered him to the hotel.