Gary's Camp Grub/Carol's Green Bean Surprise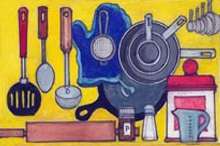 By Amy Story Larson
IDAHO magazine recently received this fun and flavorful recipe from reader Gary Kalmbach. I read it over with great amusement and curiosity. Anyone cooking and explaining in this way seems an entertaining soul to know. Thank you for the submission, Gary. Here's what he wrote to us:
"Howdy,
"My name is Gary Kalmbach. I grew up on a farm north of Notus. I spent all twelve years of my schoolin' in the same old school house. Our class of 1974 was the last class to graduate from the old building. They opened the new high school the next year. Our family did a lot of camping and hunting. We did our elk hunting in the back country near Elk City. My wife Terry and I still take the horse and mules on pack trips into the back country—age ain't got nothing on us. We live in Keuterville, just a little piece of heaven!
"This is a recipe called camp grub or fried taters. I know that there are many variations. This is mine. I learned it when I was a teenager in elk camp. I was told to make breakfast one day and this is what I came up with. It's also good on a cold wintery day when you're a little bored and hungry. I am gonna describe this in the way I talk, because I heard somewhere that if you write something, you should do so in the way that you think and speak.
"This serves a bunch of folks and it goes well with a good cup of camp coffee (boiled, not perked). Flavor the coffee with whatever firewater, shine or yuck (that's milk) that ya want, but straight black is the best."
– Gary Kalmbach.
Gary's Camp Grub
INGREDIENTS
4 large spuds (potatoes)
1 large green pepper
1 large red pepper
1/2 large yeller onion
1 lb. sausage
1/2 lb. cheese
1 bag bacon bits or a dozen strips
of bacon pre-fried and
crumbled
bowlful of mushrooms
half-dozen cackleberries (eggs)
PREPARATION
> To start off you gotta have an extra-large skillet. Make sure you've got a lid or a pizza pan or even some tinfoil. Get it heatin' up and add a large glop of bacon grease. Cookin' oil will work too, but bacon grease is better.
> Now cut up the 4 large spuds into small pieces. Add these to the pan while it's gettin' hot. Make sure you keep the lid on the pan and stir often. I might add that you can salt and pepper every layer if ya want.
> Cut up both large peppers and mix them. Keep stirring and flipping mixture, and keep yer lid on!
> Mix in the sausage (could be deer, elk, or pork).
> Get yourself that large yeller half-onion and dice it. Mix it in, and keep stirring and flipping but keep yer lid on.
> Add the mushrooms. Morels are best, but those store-bought ones that are white with little umbrellas will work. Put enough in to cover the top and mix it in.
> Add a bag of bacon bits or a dozen strips of pre-fried bacon, crumbled. Keep the lid on except when you mix and flip.
> Now we put in the cackleberries—that's eggs to you greenhorns. Put in a half-dozen and mix em' up until they are cooked.
> Finally, shred up a big bunch of cheese, enough to cover the whole top of the grub. Cover it, back up, and let it melt. Give a hollar that it's time for the grub.
Carol's Green Bean Surprise
INGREDIENTS
3 cans cut green beans or, ideally, canned green beans that came from your garden
1 can cut, stewed tomatoes or, again, canned from your garden
1/2 lb cooked bacon, crumbled
1 sweet Vidalia onion, diced and sautéed
Minced garlic to taste
PREPARATION
> Combine, serve hot or warmed, and follow your taste buds.
Note: I joined Carol and Gary, otherwise known as "Mr. and Mrs. C.," at their charming home in Boise's North End, where they've been living since the early 1970s. The foothills seemed to be singing in the background of this beautiful setting. We played "Sequences,"- a card and board game at which I handily lost, not once but thrice, and then, in their cozy kitchen, we had a delicious supper of steak, baked potatoes, and the tastiest side dish— a lovely green bean combination I was not quite able to get enough of. As I hungrily took a second helping, Gary leaned forward and said, "You like that one, do you?"
Yes. Quite. I asked them to repeat the ingredients twice, to ensure I'd remember long enough to get it onto this recipe page.