Generation Wild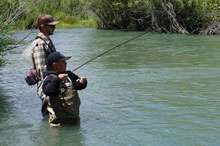 Finding Direction through Solitude
By Kevon Bjornson
My older brother Brian tossed me the net, handing over the responsibility of nabbing the fish on the end of thirteen year-old Jack's line. I gripped it tightly and searched the water.
A moment later, the fish broke the surface a few yards away, a gorgeous brown trout of about seventeen inches, its prominent dark spots glimmering along the side of its body. My vision locked onto the silhouette drifting beneath the Owyhee River. The trout took a few strong pulls, bending the rod and making Jack's face grimace in determination. Slowly, the trout grew tired and inched closer to where I stood. Moments later, the nose of the fish peaked slightly above the current. I went after it in a sweeping motion, aiming at its head. The fish fell through the circular rim and into the rubber netting.
We had it. Jack had successfully landed his first fish on a fly rod. Our anticipation came to an abrupt halt as I stood holding the weight of the fish inside the net. In the moment of stillness that arose around us, I noticed my heart beating rapidly and my hands trembling in excitement, a response stronger than at any time I had caught a fish on my own. I glanced up at the enthrallment covering Jack's face. Our eyes connected, and I knew exactly what he was feeling.