Ghosts in the Desert

The Making of a Novel
By Christi Nogle
In June, Boise writer Christi Nogle won the Bram Stoker Award™ for Superior Achievement in a First Novel presented by the Horror Writers Association for her book, Beulah, which is set in Idaho. It also was a finalist in the novels section for this year's prestigious Shirley Jackson Awards. We asked Christi to write about how the state and her experiences here inspired the book.
When I was a child, my parents and I moved around to many different towns, mostly in southern Illinois and Indiana, but I have vivid memories of visits to Idaho. My grandparents, Lyle and Irene King, ran King's Pottery in their home just off the Snake River Canyon near Buhl.
We would take day trips to Sun Valley and over the border to Jackpot, Nevada, as well as exploring around the house, always accompanied by their adventurous poodles. Before they sold off the back half of their property, they had a beautiful view of the canyon, a pond where we skated once in winter, and many nooks and outbuildings to explore.
I remember being impressed by how the sun shone brightly in winter and by the stone-filled fields. Strangely stark and dry compared to the Midwest, Idaho seemed an alien landscape.
My mother had been nostalgic about Idaho ever since living in Eagle and Jerome for brief periods as a child, and so when we lost my father, we moved to Buhl and then when she remarried, to Emmett and her dream log cabin in Jerome. Eventually she joined me in Boise, where I had moved to attend and then teach at Boise State University. She lived the rest of her life here, and my grandparents joined us here in their last years.
My first novel, Beulah, is inspired by Idaho landscapes and small towns but skewed, layered—fictionalized.
The novel opens with a family of women and girls driving over the Perrine Memorial Bridge into a town that shares features with Emmett, Buhl, and various other small Idaho towns. The mother, Gina, is terribly afraid of heights, as my own mother was, and her eldest daughter Georgie tries to talk her through the fear of crossing the bridge, as I often did.
The place where they'll settle is on the fictional Farm School Road. The location should be recognizable to anyone from Emmett, because I describe something very like the old Little Mansion and outbuildings, but in the book there also is a view of the bridge and canyon. These places have been layered and combined.
At Beulah's Cobbler Days Festival, the main character, Georgie, observes a typical Idaho scene with ominous undertones:
The crowd began to change. I would catch the light scent of cigarette smoke, and then the smoke would come strong and the people would look different for a moment. Mustaches, long shag haircuts and mullets on the men. On the women, a disturbing variety of prints and eye-makeup and tight oily perms, on and on like that. Something sexy about it all. Tight jeans, musky sweat, plumage. It was dizzying, but still I could blink it back and set it out of mind. It was just the charge of the parade bringing back little echoes of past parades, I knew. It wasn't anything.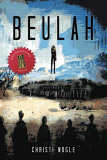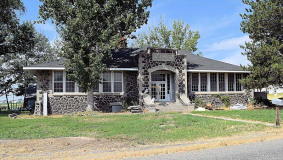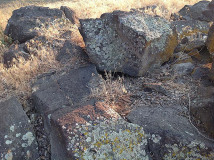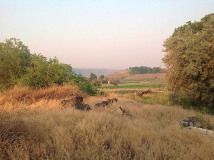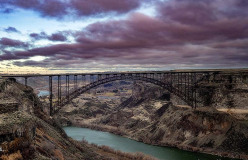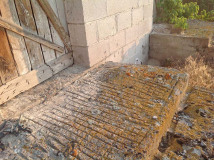 The town of Beulah is entirely haunted—this is a horror novel, after all—and eighteen-year-old Georgie is quite sensitive to the haunting. At the start of the novel, she is the only character who is. She's terrified by the many ghosts in human form, but she also sees the layers of time—the changing of seasons and the building and destruction of buildings throughout Beulah, as though everything that happened there is still happening, all at once.
Beulah was deep dream-Beulah. Its absent buildings crowded the present ones and were no less real. Many versions of everyone living and dead wandered its streets so that all was a thick gray swamp moving with people. . . . The sky was shifting from day to night, trees leafing out and leaves falling and the trees going away. A buzzing, electric sound.
All the layers of time still layered, trucks and cars on top of each other in the driveway, children playing and us girls working on the yard. The sky kept cycling through day to night, but the rock building was clear and dark behind it all.
The home where Georgie and her family settle is an old stone schoolhouse they are planning to renovate. I was inspired to set the novel there because every time my mother and I would pass such a structure on our travels, she would remark that she would love to buy it and turn it into a house.
The exterior of their schoolhouse is similar to Jerome's Fall City Schoolhouse, which also inspired the cover artist Luke Spooner's cover image (though, appropriate to the novel, he made the school seem vast and dreamlike). The interior of the schoolhouse is inspired by small church-schools I attended, and the building's back patio is strongly inspired by the rough and lichen-covered steps on my grandparent's property.
I didn't know the name of the dream-town was Beulah, but I'd think of it as the town where I was free. I was allowed to go everywhere, and I spent so many nights just exploring the town. I would pass along its sidewalks— floating, you know, like you do in dreams. I would go into all of these different stores and houses. Into the schools. The dome school wasn't there in my dreams, but I'd go into the elementary and the junior high. There was a blue gas station at the edge of town, and there was a little park in the center and a big dark park with those painted lady houses around the edge of it.
There is a great deal of nostalgia in Beulah. In writing it, I relived the feeling of freedom I'd had as a child who had never been free to roam before and, finding myself in a tiny town regarded as safe, could suddenly walk anywhere I wanted. It was the 1980s, and my mother worked long hours in her pottery business, so I was free to spend my days exploring new places.
There was a terrible loneliness to all of that, which the novel skews and fictionalizes. Georgie isn't lonely in the way I was—she has two sisters, after all—but she is alone because she can't share what she sees, at least not at first. She is also seen as an outsider. As lovely as they can be, these quaint small towns can also be quite status-conscious and insular.
I'll be the first to admit this is not a novel for everyone. It is scary at times (I hope), and it is also written in an experimental manner that may feel jarring to those who love conventional ghost stories. The main character is depressive and laconic, not the heroine type that many readers want to see. All that said, I found it cathartic to write and feel satisfied with the way it records what I saw of the places I explored in Idaho.
More than that, I feel proud of the way it records certain aspects of my relationship with my mother, as we drove around, as we tried to survive in these places. She did not live to see the cover or see the book published, but she knew it was about to be, and she had the chance to read and discuss it with me, which means so much. All she wanted was for me to live a creative life, and I hope she knew that, unhappy as I often was out here, it was her bringing me out to the desert that helped this book become a reality.
Everything was still. Everything around me, all laid out like a map. Everything. All of Beulah drawn out in fine white lines and everything beyond Beulah, everywhere I'd been in my life, all the roads and all the houses. I saw into all of the houses at once. I saw into everyone's heart and mind, everyone that I'd ever known or ever would know, all of my interactions, every book I'd read. All at once, all in a second.
Christi Nogel's Beulah (Cemetery Gates Media, 2022) is available at Boise's Rediscovered Books and Barnes & Noble as well as select horror-focused bookstores nationwide, on Amazon.com, or direct from the author through https://christinogle.com/contact/ n