S'Mores Cookies/Lime Shrimp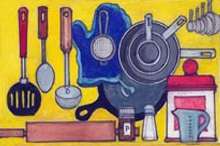 By Amy Story
Melissa's S'Mores Cookies
COOKIE DOUGH INGREDIENTS
3/4 c. shortening
1 1/4 c. firmly packed light brown sugar
2 Tbsp. milk
1 Tbsp. vanilla extract
1 egg
2 c. all-purpose flour
1 tsp. salt
3/4 tsp. baking soda
1 c. semi sweet chocolate chips
1 c. coarsely chopped pecans (optional)
Pinch of cinnamon (optional)
Pinch of nutmeg (optional)
Pinch of black pepper (optional)
OTHER INGREDIENTS
Graham crackers
Marshmallows
Squares of chocolate bars
PREPARATION
> On a greased cookie sheet, place squares of graham crackers three inches apart. Place a large marshmallow on each, then put sheet in the oven to broil for two or fewer minutes for toasting.
> Remove pan momentarily.
> Place chocolate squares on top of marshmallows and allow to slightly melt while making cookie dough.
> Reduce oven heat to 375 degrees.
> Beat shortening, brown sugar, milk, and vanilla together in a large bowl on medium speed with mixer until blended well. Add the egg.
> In separate bowl, combine flour, salt, baking powder, and (optional)spices. Then add to other ingredients until well blended. Add chocolate chips and nuts.
> Return to cookie sheet. Place rounded teaspoonfuls on top of graham crackers, marshmallows, and chocolate squares.
> Return sheet to oven and bake 8-10 minutes, 11-13 minutes for crispier cookies.
Note
A specialty of my youngest sister, Melissa Peterson, is baking, which befits her welcoming personality and warm, inviting home. When I visit, I often get a sample of the latest recipe she's trying out. One day we made a quick stop at her place so I could see their charming little man of a dog Tico, a rat terrier/Chihuahua mix who doesn't know he's not human and whom I've been smitten by since day one.While I was happily reuniting with that darling canine, Melissa bagged up a couple of these cookies, insisting I take them with me.
Not a huge one for sweets lately, I broke down for a taste that night, to immediately exclaim, "Oh, yum!" Within minutes, the cookies were gone. An idea and recipe this good was meant to be shared. I think perhaps it would be wrong not to.
Lime Shrimp and Chili Wraps
INGREDIENTS
1.5 lb. raw shrimp, peeled and deveined
2 tsp. ground cumin
1 tsp. smoked paprika
2-6 cloves fresh garlic, minced
2 Tbsp avocado oil, or extra-virgin
olive oil, divided in half
sea salt and fresh ground black pepper
freshly ground black pepper
2 fresh limes
handful of fresh cilantro leaves, chopped
8-10 romaine or butter lettuce leaves, rinsed and pat dried
1 large avocado, diced
1 red chili, thinly sliced
PREPARATION
> In large bowl, add shrimp, seasonings, juice of one lime, garlic, and one tablespoon oil. Season with salt and pepper to taste, stir well.
> Marinate covered in refrigerator for at least 15 minutes.
> In large skillet, heat oil over medium heat. Cook shrimp until just pink, 3-4 minutes.
> Combine cooked shrimp, avocado, cilantro, chili slices, juice of one lime and remaining oil in a large bowl. Gently stir all the ingredients.
> Taste test, and season accordingly.
> Place spoonfuls of mixture onto crisp Romaine leaves, roll into a wrap, and enjoy.
Note
We had much to celebrate on August second of this past summer and I, as a mother of an adult son, was especially celebrating the fact that I got to have him and his family over on his actual birthday. It had been several years—understandably, as Taylor had married into a large family that likes to travel. Still, as a mom, it meant much to me.
Taylor had earned his Master's degree in May and just a week earlier than his birthday had been their daughter DeeDee's birthday, so I wanted this meal to be special. Wild River Bill, an avid foodie and former caterer, sent over this recipe idea, and I executed.
The look on my thirty-three-year-old's face when I unveiled the large chilled bowl piled with seasoned shrimp was worth the effort. Taylor has loved shrimp ever since he was old enough to eat it. But this was the first time I ever saw him go for fourths.His wife, our wonderful Jessica, also got seconds, as I mentally high-fived myself. I'll have this one on continual repeat.