Just Visiting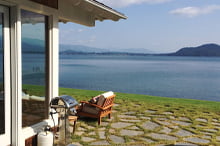 Is Eco-Tourism Even a Thing?
By Ron McFarland
Last July, my wife Georgia and I drove up from Moscow to Sandpoint for a reading by two authors whose new books concern tragedies at sea. One is by Sarah Conover, Set Adrift: a Mystery and a Memoir (55 Fathoms Publishing, 2023). Sarah, who has a Master's degree in creative writing and has worked as a PBS producer, was two years old when her family's sailboat disappeared in the Bermuda Triangle, leaving her orphaned.
The other book, by our longtime friend Paul Lindholdt, is Interrogating Travel: Guidance from a Reluctant Tourist (LSU Press, 2023). Paul's twenty-year-old son and his pal disappeared in a kayaking accident in the Salish Sea, an event mentioned in his 2011 memoir, In Earshot of Water, and to which he returns in Interrogating Travel.
On our visit, Georgia and I spent three days with Paul at the luxurious condo in Sandpoint that he and wife Karen own. Karen was unable to join us, as she found herself in the clutches of the lawyering biz. Paul, who studied with Annie Dillard while getting his Master's in creative writing, later earned a PhD and has done stints as a professor at Idaho State University and the University of Idaho.
In addition to his two memoirs, his books include the poems in Making Landfall (2018), and the nonfiction Explorations in Ecocriticism: Advocacy, Bioregionalism, and Visual Design (2015).
Both Sarah's and Paul's new books can be regarded as memoirs, although Paul blends in thesis-driven argument, which I think qualifies it as "eco-memoir." He confronts the contradictions implicit in his identity as an environmental spokesman and literary eco-critic with his personal involvement in high-end, CO2-producing air travels.
The Thursday afternoon presentation by Sarah and Paul at the East Bonner County Library drew a disappointing although perhaps not surprising turnout. Sandpoint, once noted primarily as a ski resort community, thanks to the lifts at Schweitzer Mountain, which began operation in December 1963, now functions as a year-round resort town.
Long gone are Sandpoint's days as a logging and lumber mill town, but a resort town in any season is not necessarily more enthusiastic about literary events than a logging town.
Georgia and I rounded out a small yet appreciative audience of seven. This reminded me of my poetry reading at Sun Valley in the mid-1980s when I served as the state's first Writer-in-Residence. Exhausted after a full day of teaching poetry-writing and then talking at Wood River High in Hailey, I wandered from coffee shop to café, where I sustained myself on caffeine and encountered posters that announced my reading in the evening.
I fantasized about meeting a wealthy and attractive woman who would be so dazzled by my poems that she'd become my patroness. I doubt that the young woman who introduced me to my audience of four that evening (which included herself) was wealthy.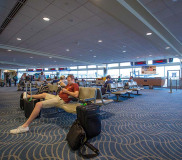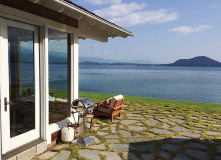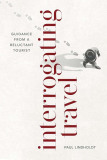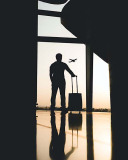 Those of us who go on the road to peddle our literary wares sometimes utter words to the effect of, "Better half a dozen who get into it than a dozen who don't." Happily for Sarah and Paul that afternoon, their meager audience got into it. A couple of women were friends of one or the other writer. I was the only bloke on the block. The Q&A was lively and thoughtful and sustained to the point that we closed down the joint.
In his talk, Paul agreed with travel writer Rick Steves that travel is "a political act." He embraced a comment quoted in his own book from a resort owner in Belize: "Sustainable travel is an oxymoron." The term is contradictory and paradoxical. How can an author of environmental books travel all over the world, from Paris to Thailand, from Belize to Tahiti, without being aware of his or her damaging contributions to global warming?
In his talk, Paul referred to the "slow violence" of "climate refugees." He confronted his own uneasiness about his travels, and said eleven percent of climate warming CO2 comes from air travel, seventy-five percent of which is tourism.
He's hardly alone in that concern. During the preparation of this story, I came across a news item from Spain captioned: "Climate Activists Spray Paint on $13 Million Private Jet."
So why does Paul, of all people, travel? He's conflicted about that. For him, travel to exotic locales is a labor of love. As an eco-critic, he feels inclined toward the Thoreauvian ideal of staying close to home, but his wife loves travel, and Paul loves his wife.
The travels he describes, often with lyrical details (he's a poet, after all), are the province of the wealthy, he says. He suggests that only the top four percent by income of Americans travel abroad.
Paul's new book might arouse adverse criticism, perhaps even charges of hypocrisy. Maybe as a tourist he is not "reluctant" enough. He distinguishes between travelers and tourists, and he reflects on "horizontal" versus "vertical" travel—that which sprawls over the planet opposed to that which satisfies itself with one's own bioregion (e.g., the Northwest).
Both in the book and during his talks, Paul expresses discomfort with his role as a member of the elite. His Danish ancestors, he says, would disapprove.
Ah, the guilt of the academic. I fully understand, having put in fifty-plus years as an English prof, mostly at the University of Idaho.
During our visit with Paul, he held a second promotion of his book, this time solo, at a high-end condo development in Dover, overlooking the Pend Oreille River near the lake. He didn't know what to expect from the Friday afternoon wine-and-cheese talk outside the place, which was to be less of a presentation and more of a relaxed, informal conversation.
The woman who had invited him said he might expect as many as twenty in attendance. Georgia and I each contributed a bottle of respectable wine.
It turned out to be a dozen guests, give or take, equally balanced between male and female, none of whom knew Paul. I met a man who'd been an English major and later became a nurse. Before that, as I recall, he'd been in real estate. Our hosts were San Diego realtors, summer visitors to the world of Pend Oreille. When the topic of the pandemic came up, though, the RN and I differed sharply. I mumbled something but then pretty much copped out.
That conversation and my introduction to others in the small audience over fresh dates from California and wine which had not (alas) been available at the library put me on the alert.
And it did not take long for Paul to raise a few hackles. The event never flew off the rails, but some took exception, he suspects, to his recitation early on of a Philip Larkin poem that begins and ends with harsh criticisms of parents.
Later, in the context of Paul's distinction between "traveler" and "tourist," he made an observation that he meant to be facetious, but it had political overtones and the conversation swerved briefly toward confrontation. Others jumped in, and the consensus arose that we are all both travelers and tourists.
Paul's point about the elite being those who write travel commentaries also struck home. He cited an African proverb: "Tales of hunting will glorify the hunter till lions learn to write." One man objected it wasn't only the well-heeled who traveled abroad. What about Hemingway?
I came to Paul's defense by pointing out that Hem's most expensive travel, his 1930s African safari, was funded by his second wife's wealthy uncle, and other sojourns were underwritten either by magazines or his publisher. Moreover, by the Fifties, he was quite well off, despite his claims of fiscal strain.
"I'm feeling a certain hostility here," Paul joked near the end.
"Did you say I'm being hostile?" our hostess teased. "I'm not inviting you back!"
"How about some other word?" someone said.
"Maybe 'animosity,'" I offered. They seemed to like that.
The next day, Paul received a gracious email from our hostess: "Thank you Paul, we all enjoyed your visit and our talk."
Nevertheless, I suspect he will not be invited for a return engagement. But what interests me is whether he and Karen will carry out their plan to fly to Paris.
If you enjoyed this story, please consider supporting us with a SUBSCRIPTION to our print edition, delivered monthly to your doorstep.