Go with the Flow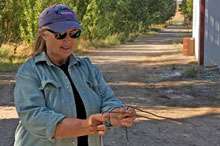 A Dowseful Strategy
By Diana Hooley
Photos by Dale Hooley
My experiment began with a neighborly chat, the kind you have halfway out of your car, leaning on the top of the car door, arms crossed. I'd seen Bob messing around in his yard and thought I'd stop by and ask if he knew exactly where the geothermal springs ran through Indian Cove, our farming valley near the Bruneau Sand Dunes. Bob was an old-timer, so he might have an idea.
"Well, I reckon it runs down through the old Pancoast place, but there's only one way to make sure."
"Find a map?" I offered. "Talk to a geologist?"
"Witch for water."
I smiled at Bob. I knew the term water witching but hadn't heard anyone use it in a long time. I wondered if he was serious.
"You think I'm kidding, don't you?" he chuckled. "You go home and think about it."