Got Books?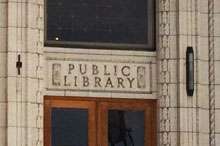 How I Have Foughten Off Illiteracy
By Steve Carr
Two of my favorite essayists are David Sedaris and Joel Stein. But I have a problem with them. When I read them I find myself thinking, "Dang, now I can't write about that and that's an idea I know I could've come up with, had I not picked up that dumb book."
For this reason, and others, I think reading is overrated. I mean, it's something I've been doing for a half a century, and where has it gotten me? I'll tell you where, not very far. Today, I work just two blocks from the old Carnegie Library in Idaho Falls where Mom used to deposit me while she "ran errands." I think she thought she was investing in my future. Fat chance.
Andrew Carnegie took a chance on me, and a few others, by investing in libraries. In the early 1900s, his foundation provided grant monies to build more than 2,500 libraries, eleven of them here in Idaho, nine of which are still standing, and three that still have aisles of books for browsing and borrowing.