The River in Stone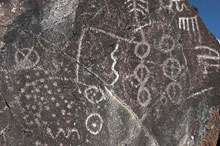 Visiting an Ancient Map of the Snake

Story and Photos by C.W. Reed
Last fall I was inspired to check out the petroglyph called Map Rock, which is a fairly famous landmark to folks around Melba in Canyon County just south of Nampa, where I was born.
But I was raised in Boise and, to be honest, I hadn't heard about the rock until my girlfriend Jen suggested we go for a drive. The directions she had taken from a website were vague, and when she had tried to visit the place a couple months earlier, she couldn't find it.
Her directions described Map Rock Road as a dirt turnoff from Highway 45, which winds along the north side of the Snake River, but we discovered the road is now paved. A couple of miles along it, we found a rest area with a modern pit toilet, for which we were thankful. Although the area sign had said "Map Rock," we were unable to find any hint of petroglyphs at first. After a bit of hiking along footpaths near the rest area and some confusion as to exactly where we were supposed to be looking, we both became a bit worried that this trip would also end in failure. I pretended to maintain my confidence, because Jen looked like she was losing faith, but it already was apparent that just to find the location was an adventure. We hopped back into the car and drove along the road, looking for any clue that might present itself, or even anything that looked somehow out of place. But it was difficult in the sameness of the rural landscape. Finally, we spotted a site just off the highway, surprisingly less than a half-mile west of the rest area. Maybe this search should have provided fun in its own right, but as I recall it left us a bit testy!