Grandma's Chicken/G.G.'s Cookies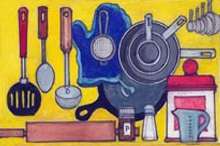 By Amy Story Larson
This month's recipes were contributed by Boise pastor Jeffery Doud, who enjoys cooking and says his specialty is comfort food. When not cooking, Jeffery reads, watches movies, listens to music of all kinds, hikes, walks, or watches college football, NFL football, or baseball. A frequent speaker at youth camps, adult camps, and retreats, the Northwest Nazarene University graduate has also been a pastor in Oregon, Washington, Arizona, and California. A resident of Meridian, he has three beautiful daughters and one son-in-law.
Grandma's Chicken
INGREDIENTS
5 boneless, skinless chicken breasts, cubed
10 slices of Swiss cheese
3 small cans of cream of chicken soup
1/2 c. mayonnaise
1/2 c. whole milk
1/2 c. white wine
1 box seasoned croutons
1/4 c. butter, melted
PREPARATION
> Preheat oven to 350 degrees.
> Place chicken in bottom of 9×13" baking dish. Lay cheese slices over chicken.
> Mix together soup, mayo, milk and wine. Pour mix over chicken. Crush croutons slightly and sprinkle on top of dish. Drizzle with melted butter.
> Bake for 1 hour. Let set for 5-10 minutes before serving. Best served on top of rice or pasta.
G.G.'s Favorite Cookies
INGREDIENTS
1 cup vegetable oil
1 cup butter
1 cup granulated sugar
1 cup powdered sugar
1 tsp. vanilla
3 cups flour
1 tsp. cream of tartar
1/2 tsp. salt
1/2 tsp. baking soda
PREPARATION
> Beat together vegetable oil, butter, granulated and powered sugar, and vanilla. Add the flour, cream of tartar, salt, and baking soda. Beat all ingredients for 2 minutes with mixer.
> Roll dough into balls about the size of a small walnut. Then roll balls in granulated sugar and place on a cookie sheet.
> Dip the bottom of a glass in sugar and flatten cookies. Be sure to dip the glass in sugar for EACH cookie before you flatten it.
> Bake at 350 degrees for 12-14 minutes or until light to golden brown.
Note from Jeffery:
"The cookie recipe was my great grandmother's favorite for cookies. Everytime we have these cookies, I think about her. G.G.'s real name was Josephine "Josie" Miller. She was born in 1899 and lived a productive and healthy life in her own home until she died at the age of ninety-eight. We have these cookies every year around major holidays, in part because we want to remember G.G., but also because they are so darn good."