Hang On, Cowboy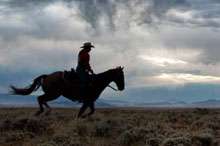 It's Easy, Right?
By Michael K. Edwards
It can be chilly around the middle of October in southern Idaho's Magic Valley. At six in the morning, before the sun has come over the horizon, it can be downright cold. In the fall of 1971, I was helping my father-in-law, John, load saddles and a couple of horses into a truck. Soon we would be on our way to the Dietrich area, where a few days earlier a group of cattle ranchers in the grazing association had rounded up all the cattle they could find on Bureau of Land Management property and had driven them into a large corral. Today we would separate those cattle by brand into individual herds, which could then be taken to winter pasture by each cattleman in the association.
That weekend, my wife and I were staying with John and his family, and the previous night he had asked if I could ride a horse. I said I had ridden. Actually, I was not the best rider—my main horseback experience was at the Twin Falls County Fair Carnival when I was six years old. But when I was a teenager, I had a motorcycle, and I figured how much different could horseriding be? He asked if I would like to ride along the next day. This question gave me an uneasy feeling, especially the phrase "ride along." But I thought maybe it would provide a chance to improve our relationship. The previous year, when I asked for his daughter's hand in marriage, he said he thought we should wait. We were married two months later. He didn't say how long to wait.