Rite of Passage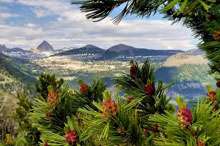 In Deep Forest at Age Seven
By Charles Willingham
After setting up the tent at Aldous Lake, I packed our food into a nylon bag and took it about forty yards away to hang it fifteen feet high on a tree limb. Black bears are relatively common in the Centennial Mountains and grizzlies pass through on occasion.
"Why are you hanging the food in the tree, Daddy?" Sarah asked.
"It will keep the bears away from camp, since the scent of the food won't be near the ground," I explained. "Bears can smell food for miles and we don't want one in our camp."
This was 1991, when Sarah, my eldest daughter, was seven: old enough for a backpacking trip. I had asked if she wanted to do it and she enthusiastically said yes. I wanted this trip to be a test of her endurance, courage, and will. A rite of passage. A night in deep forest around wild animals would test her courage.
The first time I had visited Aldous Lake was the previous year, while doing archeological searches for the U.S. Forest Service in the Centennial Mountains, which are part of Targhee National Forest (the larger and more northerly part of the combined Caribou-Targhee National Forest). Amazed at the beauty and serenity of the area, I had decided right then that I would return the next summer. Aldous is a four-acre lake in Clark County, a few miles north of the community of Kilgore. It was about a ninety-minute drive from our home in St. Anthony to the trailhead. When we arrived, I gave Sarah her small pack with some essentials and I carried our tent, sleeping bags, and food in my large military pack. Liz, our young springer spaniel, came with us.