Yogurt Bites/Pistachio Cookies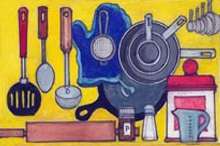 By Amy Story Larson
For our family, when the sun came out after the winter chill, anything quick and easy for desserts or snacking was the thing. When the kids returned from a jump on the trampoline with their Australian shepherd, Callie, who strangely liked to jump, too, they'd be famished as they entered the country home's back door through the old garage. Recipes for anything cool and frozen or these cookies were a welcomed treat.
Yummy Frozen Yogurt Bites
INGREDIENTS
Granola
Greek-style yogurt
Fresh fruit
Chocolate chips, mint leaves, or colored sprinkles, optional
PREPARATION
> Spoon 1 tsp. or less of granola into the sections of an ice cube tray.
> Cover with yogurt, then top with items of choice.
> Freeze 2 hours, let soften a little, then remove from trays and serve.
Pistachio Drop Cookies
INGREDIENTS
2 sticks unsalted butter cut into pieces
2 eggs
2 3.4 oz packages pistachio instant pudding mix
1 tsp. clear vanilla flavoring or extract if you don't mind its brown color in the mix
2 c. flour
1 tsp. baking soda
12 oz. bag semi-sweet chocolate chip morsels
Melted in microwave chips for drizzle
PREPARATION
> Preheat oven to 350 degrees.
> Combine eggs, butter, and pudding. Stir in vanilla. Add flour, baking soda. Gently stir in chocolate chips.
> Place 1 tsp. of dough one inch apart in ungreased cookie sheet.
> Bake 10-12 minutes.
*If desired, place melted chips liquid (let cool a bit) into a parchment or wax paper tube, snip the end, and drizzle over cookies for a fancy effect.