Hansen BBQ Wings/Oakley Dessert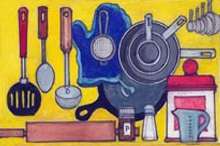 By Amy Story Larson
Hansen Honey BBQ Wings
INGREDIENTS
18 chicken wings, raw
1-1/2 tsp. powdered garlic
1 c. Sweet Baby Ray's Barbecue Sauce™
½ c. honey
1 Tbsp. Frank's Hot Sauce
2 Tbsp. ketchup
½ tsp. cayenne pepper
½ tsp. paprika
1 tsp. salt or Himalayan salt
Crushed black pepper to taste
PREPARATION
> Combine ingredients to make the sauce. In a large bowl, coat wings with half the sauce, preserving the other half in a separate container. Cover chicken bowl and marinate at room temp for 20-30 minutes, or in the fridge for up to 24 hours.
> Heat up your oven's broiler, arrange an oven rack 6-8 inches below the broiling element. Line a baking sheet with foil, then place wings a little space apart from each other on baking sheet.
> Broil for 10-12 minutes, or until tops are browned in places, with crisped skins, then flip and brown again for 10-12 minutes on the other side. It should look crispy, and the meat should pull easily from the bone.
> Toss wings in a bowl with the remaining sauce, and serve immediately. Yummy with bleu cheese or ranch dressing, served with celery or carrot sticks!
NOTE: Hansen is a city with total area of .38 square miles, all of it land, located in Twin Falls County, elevation 4,009 ft. In 2010, approximately 1,144 people dwelled there.
Oakley Oreo™ Dessert
INGREDIENTS
1 package Oreo cookies, crushed,
but reserve a few for garnish
½ stick butter, melted
1 8-oz. package cream cheese, softened
2 small packages of vanilla instant pudding
(do not make pudding using the milk below.
Only add 3 c. with these directions)
1 8-oz. container of Cool Whip™
3 c. milk total (see note below)
1 c. sugar
1 Tbsp. vanilla extract
PREPARATION
> In a bowl, finely crush the cookies, and then place at the bottom of a 9×13" pan, reserving some for the topping/garnish.
> Pour all melted butter evenly over the Oreo crumbs.
> In large bowl, combine pudding mix and milk until thickened, then add softened cream cheese, sugar, vanilla extract, and mix well.
> Fold whipped topping into the mixture, spread over Oreo crumbs.
> Sprinkle remaining crushed Oreos on the top, including a few whole ones for décor, and then chill in fridge for 2-3 hours to set up.
NOTE: Oakley ranks ninety-fifth in population among Idaho cities, closely trailed by Groveland and Kootenai. Located in Cassia County and part of the Burley Micropolitan Statistical Area, its population in 2010 hovered around 763. You'll often see signs for Oakley when traveling I-84.
*adapted from lovelyculinary.com