Hemingway's Fishing Rod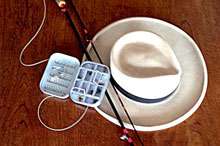 In the Hands of Another Ernie
By Jeff Beyl
What I mainly remember about Silver Creek is the cow pies and the muck.
But I also remember the luminescent, lime green of the hills that surround this meandering, spring-fed creek just outside Ketchum, made famous by Ernest Hemingway. I remember the early summer sun, high in the blue morning sky. I remember the heat on my shoulders. I remember the birds (I lost a few trout that day because of my affinity for bird watching). I did catch a few respectable trout, rainbows, twelve to fourteen inches. I remember admiring them, the sun sparkling off their sides, as I released them back into the cold, transparent water, as I always do. I remember the water—shallow, slow moving and as clear as the cold vodka that we would later drink in a toast to Papa Hemingway.
When I was a child, my parents lived in Sun Valley for a brief time. I don't remember it. My father, Ernest (coincidentally) was a PR man back then and he somehow ended up meeting Hemingway (his boyhood hero) at a function one night. He asked Hemingway to autograph his new book, The Old Man and The Sea. The inscription on the inside flap reads, "From Ernie to Ernie." I remember reading that book as a kid. I remember Spencer Tracy, as the Old Man, in the movie.