History Champs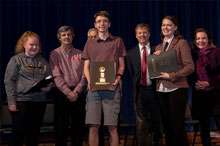 Idaho winners of the National History Day competition were announced recently. Among award-winning students in three divisions from grades four through twelve were three recipients of the IDAHO Magazine Prize in the Special Prizes category (front row, from left): Lindsey Cooper of Mountain View Middle School, Quinn Lydon of Renaissance High School, and Kelsey Ferro of Caldwell Senior High School. Shown with them are (from left): Bill Butticci of the Idaho State Historical Society Board of Trustees, Dr. Mark Smith of The College of Idaho, Dr. David Douglass, vice president of academic affairs at The College of Idaho. and Jan Gallimore, executive director of the Idaho State Historical Society.
Hundreds of outstanding papers, exhibits, websites, documentaries, and performances were part of this year's program. Among the other prizes awarded statewide, scholarships went to four students. The ISHS Centennial scholarship of two thousand dollars went to Josh White, whose story about researching World War II veterans appears in this issue. The College of Idaho gave three scholarships: Elizabeth Hunt received the Xenophon of five thousand dollars, Will Galtney was awarded the Thjucydides of ten thousand dollars, and Louisa Goltry won the Herodotus of twenty thousand dollars. Congratulations to all, and best of luck to those who go on to represent the state in Washington, D.C. this summer. — The Editors
To participate in the National History Day program for next year, contact: [email protected]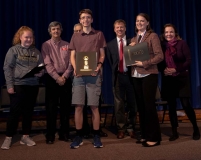 Thanks from Winners
Dear Editor,
I was awarded the IDAHO Magazine Prize for National History Day, and am grateful for such an honor. I would like to thank you for supporting students in their learning of history! I personally learned a lot this year, especially about Idaho, and hope to learn even more in the coming years.
Quinn Lydon, Renaissance High School, Meridian
Dear Editor,
I am so excited to receive the IDAHO Magazine Prize. Thank you for supporting National History Day in Idaho and students like me!
Lindsey Cooper, Mountain View Middle School, Blackfoot