Hitting Ninety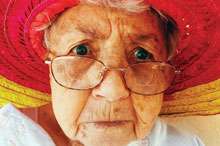 Rethinking the Successful Life
By Roxie Olmstead
When I reached the age of ninety more than a year ago, common sense told me parts would wear out. But I didn't expect this of my belongings. In my first six months of being ninety, I had to replace my electric can opener, the four-cup coffee maker, sewing machine, electric toothbrush, computer printer, cell phone, and calculator.
A TV ad told me I was no longer eligible for a new health policy or life insurance. Only people under eighty-five were asked to call.
I think I fully realized the ride I was in for when I received a business call regarding a
problem I was having with my computer. A young thing on the other end of the line started throwing around terms I didn't understand, so I interrupted to explain I was elderly and, as a matter of fact, had just celebrated my ninetieth birthday.
"Who takes care of you?" she instantly asked.
I explained that I took care of myself.
"Oh."
When I started writing this story, I took a look at a scrapbook I've kept through the years. It's amazing what can be forgotten in just a quarter-century. I found something I had typed for my mother that she had written when her ninety-first birthday was coming up. I had forgotten all about it but since at that point I had just turned ninety-one, it now meant more to me. Here it is: