Hooked on Rafting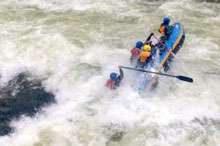 A Lochsa River Adventure
By Alice Schenk
Photos by Becky Dowdle
The instructions I received before rafting northern Idaho's Lochsa River in June were straightforward: when you go overboard, hang onto your paddle and if the boat is gone, swim to the shore (specifically the shore near the road).
I kept telling myself it was "if" not "when" you go overboard. My plan, my number one priority, was to stay in the boat. But if I didn't, I wanted at least to be a high flier, soaring like an eagle and plummeting to the water gracefully. And I wanted it captured on film, if you please.
As we prepared to launch on the first day, I told the men on my raft that when I get nervous I talk a lot. I hadn't shut up all morning. I think they noticed.
I also wanted to pull my weight on this trip. I am not, after all, a city-softened girl and I did not want to sit on the sidelines and watch the experience pass by. I wanted to be in the center of the excitement, not only celebrating the victories but feeling I had played a part in them.
The men on my raft were wonderful, and I felt very welcome. They included Val Garn of Burley, his son Jared Garn from Boise, Josh Dowdle of Missoula, and Kirk Burgess and Tyson Cook, both from Burley. Everyone in the raft was responsible for its success and everyone helped paddle. Even though I honestly tried to do my part, the men carried the day.
But I'm getting ahead of myself. I should tell how this rafting trip came about. Actually, it could be traced all the way back to 1984, the year the Oakley Dam overflowed. That year, our trip's leader, Alan Hunter, entered the lottery for a bighorn sheep hunt. He drew a permit, and got out the map to see where he was going. It was land along the Middle Fork of the Salmon River, and there were only two ways into the area. You could either ride a horse or you could float. If you floated, you'd stop along the riverbanks and walk up the canyons to hunt.