Hot Cheese Dip/Lakeside Dip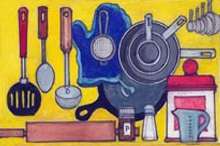 By Amy Story Larson
Rancher's Hot Cheese Dip
INGREDIENTS
Ground beef, turkey, or sausage (or a combination), amount of your preference
Salt, pepper, garlic powder to taste
Red pepper flakes (optional)
Apple juice to taste
Pepper jack cheese
Velveeta™
Ro-Tel™ canned tomates with green chili
Black beans
Red onion, diced
Cilantro, chopped
PREPARATION
> Brown meat, drain grease if necessary.
> Add apple juice, simmer for 4-5 minutes.
> Add cheeses and stir until texture is smooth.
> Add black beans, cilantro, and onion.
> Stir in enough Ro-Tel for desired consistency.
Use the dip with tortilla chips or veggies.
*This can be made in advance in a crockpot.
* ALL amounts of ingredients are according to cook's taste and preferences.
Note: "Queso" is an old, old recipe, emerging as far back as 1896 in its infant form, and with a bit less cheese. Even further back, (as in the late 1500s), Spanish explorers brought dairy items to Texas, where it began to find popular place alongside chiles and other vegetables. Americans have been hooked ever since.
Lakeside Dip
INGREDIENTS
8 oz. cream cheese, softened
2 Tbsp. sour cream
1 c. sharp cheddar cheese
1 can crushed pineapple, drained, reserve the juice
1/4 c. pineapple juice, left over from can
1 c. diced, cooked ham
1 2.8 oz. bacon strip
2 Tbsp. chopped green onions
Garlic powder or minced garlic to taste
PREPARATION
> Blend cream cheese, sour cream, and juice together in large bowl. Spread into bottom of a pie pan.
>Top with shredded cheese and pineapple, ham, cooked and crumbled bacon, and green onion.
>Cover and chill for 30 minutes before serving.