Huckleberries and Red Overalls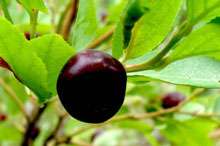 In the Secret Patch
By Karlene Bayok Edwards, photos by Jan Yensen
This story is offered free of charge in its entirety for the first week of August.
Huckleberries. Just the word conjures halcyon summer days of tangy, reddish-bluish-purple pleasure.
For anyone familiar only with blueberries, think tiny, tart, and wild. Think serendipity. Every condition must be met for a good huckleberry year: plenty of snow in winter, a moist spring with no late frost, and a warm ripening summer. Huckleberry patches must first be discovered and then kept secret until picking-time. Hours must be dedicated to amass enough of the small berries required for any recipe.
We'd leave early on an August morning with our pails, mosquito repellent, berry-flavored drinks, and tuna-fish sandwiches. Windows wide open, we'd drive up the narrow, winding road toward No Business Lookout near Donnelly, going just fast enough for the dust to settle behind us. Somewhere along the way, Mother would say, "This is the spot." We'd climb through the stillness of pine and quaking aspen, hearing only insects rattling and wind wuthering through the branches above our heads, until the huckleberry brush-covered hillside would emerge, and we'd begin.
There's an art to huckleberry picking. Loop the handle of your pail through your belt to leave both hands free. Start picking at the top of the patch and work your way down. Sit on the upside of the hill, picking from the bushes below you so there's room for your legs to stretch out down the hill. Use a gentle rolling motion to avoid pulling off stems still attached to berries. Most important, fill the pail before tasting. Mother could always tell if we broke this rule by our stained mouths.
Once home, we'd wash, sort, and immediately refrigerate the huckleberries. They are too fragile for canning and can be safely frozen only a few weeks, so during this brief huckleberry season, Mother would let each of us choose by turn our favorite way to eat them. Dad liked his best fresh from picking, cooled in the refrigerator, and heavy on the sugar. Mother, envisioning the long winter to come, would fill a shelf in her fruit room with shining jars of potent jelly.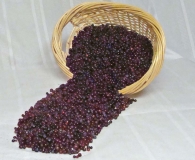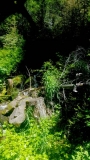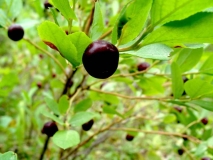 My brother Ronny's choice was always huckleberry dumplings. Mother would cook huckleberries with sugar into a thick sauce and then drop heaping tablespoons of barely sweet dough into the hot liquid, where they'd rise into small berry-mottled cakes.
When it was my turn, I chose huckleberry pie. To make the huckleberries go further, and to soften their intense flavor, Mother would add applesauce to the filling. Even now, my mouth waters as I summon the aroma of warm pie, its juice bubbling through purpled crust.
My most-cherished huckleberry memory took place when I was about seven or eight and Ronny was probably four. After he and I had filled our pails, we were free to play in the woods. I was wearing my favorite red overalls with a bib front and hook-over clasps on the shoulder straps. They were hand-me-downs from my older sister and the material was soft with use. Because Ronny had jeans on, he didn't get in as much trouble as I did.
In our wanderings, we discovered an open swath of hillside deep with pine needles and thick with tall grasses. I remember we took turns running, leaping, and then sliding on our bottoms down the grassy slope. Over and over, we joyously sailed down that hill until Mother found us and scolded me for completely wearing through the seat of my pants. Later I had to wear my red overalls with iron-on patches to remind me that I was old enough to know better.
Ever since then, I've associated the enchantment of that afternoon with the bliss of huckleberries—as both are rare, to be treasured beyond cost.
Editor's Note: The annual Huckleberry Festival in Donnelly will be held Aug. 12-14. For more information, visit donnellychamber.com/events/huckleberry-festival.
Blueberry Pie
My mother, Marcella Bayok, used this recipe from an old cookbook to make huckleberry pie, substituting huckleberries for blueberries with up to half applesauce, and adjusting the sugar to taste.
Oven 400 degrees.
Prepare pastry for 2-crust 9-inch pie. Combine 4 cups fresh blueberries with ¾ to 1 cup sugar, 3 tablespoons all-purpose flour, ½ teaspoon grated lemon peel, ½ teaspoon ground cinnamon or nutmeg, and dash salt. Line 9-inch pie plate with pastry. Fill. Sprinkle with a teaspoon lemon juice; dot with 1 Tbsp butter. Adjust top crust, cutting slits for escape of steam. Seal. Bake at 400 degrees for 35 to 40 minutes. Serve warm, if desired.
Huckleberry Dumplings
This recipe is from Gen Grandy, a friend of my mother.
Combine in large-bottom pan:
2 cups huckleberries
1 full cup sugar
1/2 cup water
2-3 Tbsp Kraft Minute Tapioca™
Bring to boil for about 5 minutes, until thick.
DUMPLING BATTER
1 cup flour
2 rounded Tbsp sugar
1 1/2 tsp baking powder
1/2 tsp salt
Half-and-half or rich milk to make a very thick
batter—a little thicker than biscuits.
Drop into huckleberry mixture and cook covered for 15 minutes.
Mother's note: Uncover when done so it doesn't get soggy.
Huckleberry Delight
This recipe comes from Polly Yensen, mother of Jan Yensen, who contributed the photographs that accompany this article. Two years ago, this recipe won Best Huckleberry Dessert at the Huckleberry Festival, held every year on the second weekend in August in Donnelly.
CRUST
1/4 cup sugar
1/2 cups finely chopped pecans
1 cup flour
1/2 cup butter
Combine all ingredients. Pour mixture in a small baking dish and bake at 400 degrees until browned, stirring every 7 minutes. Total baking time depends on oven. Remove from oven and press crumbs into the bottom of the pan to form crust. Let cool.
FILLING
1 8 oz pkg cream cheese, softened
1 tsp lemon juice
1 cup whipping cream whipped or 1 cup whipped topping
3/4 cup powdered sugar
1 tsp vanilla
Blend cheese, sugar, lemon juice and vanilla until smooth: gently stir in whipped topping. Spoon into cooled crust: refrigerate.
FRUIT TOPPING
1/2 cup sugar
dash of salt
3 Tbsp of corn starch
1/2 cup cold water
1/2 Tbsp butter
1 tsp of raspberry or strawberry Jello™
2 cups huckleberries, divided
Combine sugar, cornstarch, salt, water. Cook until thickened. Add butter, Jello™ and berries. Cool. Pour over filling. Refrigerate 4-6 hours. Top with additional whipped topping. Add a few chopped pecans and a few huckleberries for garnish. Enjoy.