Idaho Remembers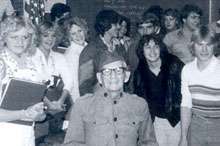 World War I Veterans
By Linden B. Bateman
Photos courtesy of Linden B. Bateman
Each year, Idaho Day commemorates the creation of the Idaho Territory by President Abraham Lincoln on March 4, 1863. This year, the observance at the Idaho State Capitol Building will take place Monday, March 5, at noon in the Lincoln Auditorium. The theme for 2018 is "Idaho Remembers," in recognition of the centennial of the armistice ending World War I on November 11, 1918. In keeping with that theme, the following story, written by a retired state representative who introduced the legislation to establish Idaho Day, is about an Idaho veteran of WWI who made a positive impact on many Idaho Falls students.
Among the war memorials in Idaho Falls are the beautiful stained glass windows in a church on Elm Street, within which are etched the names of congregation members who served in World War I, which ended one hundred years ago on the eleventh hour of the eleventh day of the eleventh month in 1918. As a young adult, I knew several of those men—many of my friends, neighbors, and teachers were veterans of World War I. Now they are gone and their children soon will pass, leaving the third generation to tell their stories.
With the death of Corporal Frank W. Buckles in 2011 at age 110, America's last World War I veteran was laid to rest at Arlington National Cemetery, and the Great War, as it came to be known, slipped a little further from memory. Nowadays, even its most heroic participants are seldom remembered.
My father knew Medal of Honor winner Thomas Neibaur, Idaho's most famous soldier of World War I, and saw the deep scars on his body inflicted by German machine guns on an obscure hill in France on October 16, 1918. On that day, Private Neibaur single-handedly repulsed a counter-attack against his unit led by fifty determined German soldiers. Despite being wounded four times and poisoned by mustard gas, he took eleven prisoners, using only a pistol.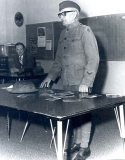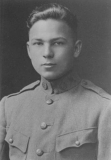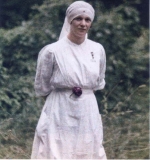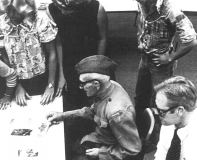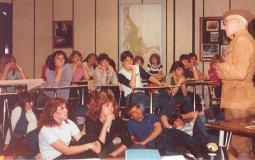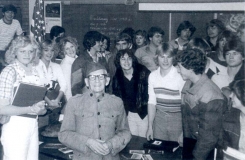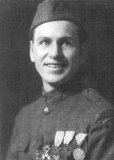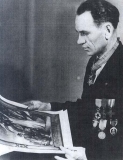 After months recovering in hospitals, Thomas Neibaur returned to a hero's welcome, attended by ten thousand people on May 27, 1919, in his hometown of Sugar City. He was greeted by speeches and salutations from people of all ages, including Idaho Governor D.W. Davis, National Guard soldiers, business and church leaders, farmers, reporters from throughout Idaho, and by marching bands leading a grand parade.
For a few years, Thomas enjoyed celebrity status. He married Sarah Lois Shepard, a young Sugar City woman, attended college briefly, and eventually fathered nine children. He was featured in newspapers and magazines and welcomed as a popular speaker by clubs, service organizations, and schools. Gradually, however, he faded from public memory and was overwhelmed by sickness and misfortune. While still suffering from wartime wounds, Neibaur was involved in an industrial accident at the sugar factory in Sugar City and was unable to work for long periods of time. During the Great Depression, living conditions for his family became desperate. Three young sons died in accidents and his wife died at age forty-eight.
With the help of Senator William E. Borah, Thomas finally obtained employment in 1939 as a security officer at the State Capitol in Boise, but after two years was again hospitalized and died in 1943 of tuberculosis, aggravated by the gas poisoning from the war. Thomas was only forty-four years of age when he died. His family dispersed and three sons were placed in orphanages. Although few people know anything about Thomas Neibaur today, we honor him during this centennial year in hopes that he will not be entirely forgotten by coming generations.
Idaho women likewise should be remembered and honored for the part they played during the Great War, serving in various capacities on the home front, including in munitions factories. In agriculture, where women worked as replacements for farmers gone off to war, they became known as "farmerettes." Women volunteered for the Red Cross and other relief agencies and served in Europe as nurses. Genevra Robinson, a nurse from Nampa who worked in a London hospital, was one of 161 American nurses who died during World War I and was the first woman from Idaho buried in the Arlington National Cemetery. Many of these women, including Genevra, died from a deadly flu transmitted from patients in field hospitals. Roughly half of all America's 116,500 deaths during the war were caused by the flu, part of a worldwide epidemic that killed between fifty million and one hundred million people.
One of those World War I soldiers afflicted by the flu was Leland Hansen, a neighbor who farmed down the road from our place near Idaho Falls. As a young man, Leland served in the trenches of France. Later, he told generations of schoolchildren about his war experiences. For many years, Private Hansen visited the American History classes I taught at Bonneville High School. He always dressed in his original World War I uniform, and he inspired my students with stories of heroism, loyalty, and sacrifice, including two near-death experiences.
As a Mormon, Private Hansen did not drink the coffee delivered to men in the trenches on the front lines where he was serving, but he was glad to use the hot drink for shaving. Once, while he was using coffee and a polished metal mirror to shave, a German artillery attack suddenly commenced and Leland's hand was struck by a piece of shrapnel, which barely missed his head. Whenever he shared that experience with my students six decades later, he always showed the scar on his hand left by the hot sliver of steel.
One evening following a long day of combat operations, Private Hansen burrowed into a pile of sawdust and went to sleep, only to wake in the early morning with a dangerously high fever, later diagnosed as the deadly flu that was sweeping through his division. Leland related to his student audiences that had it not been for the constant care provided by a young French nurse, he surely would have died. Delusional, and in a dream-like state of semi-consciousness, he could see her countenance hovering over him day and night. When he began to recover, she was transferred to another area of the battle zone. Leland never saw her again and never learned her name. It was to be one of the great disappointments of his life that he was never able to thank the nurse who saved him. As recalled this woman who saved his life and the comrades who did not survive the war and who lay buried in the soil of France, Private Hansen often wept.
The State of Idaho recorded the loss of 358 service members during World War I, a major sacrifice from a state population of only four hundred thousand in 1918. On Idaho Day, we honor those who died and all who served during the Great War that ended one hundred years ago.