In Praise of Snip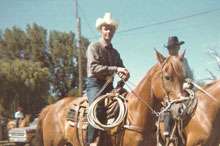 The Greatest Ranch Horse Ever
By Tim Tingey
Photos Courtesy of Tim Tingey
One day on the ranch where I was raised near Carey, on the banks of the Little Wood River, we were herding a lame steer from the range pastures, but it was not cooperating and continued to duck into willows and clumps of trees.
Dad was riding our horse Snip, with my little brother Brian on behind him. Dad finally decided he needed to rope the steer and pull him to the corrals, where medicine could be administered.
He lifted Brian off Snip, and my brother stood back to watch Dad begin the roping process. When Dad chased the steer out of the thick trees, the animal noticed Brian and began to charge at him. Brian ran and I panicked, thinking he would be overrun by the large steer. Within a few seconds, Dad and Snip were galloping toward Brian, and Snip maneuvered between my brother and the steer. Snip's body connected with the steer, pushing it away from Brian. I breathed a sigh of relief, extremely grateful for my Dad's quick action on Snip.