Ineptitude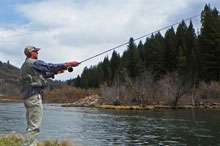 How Not to Fly Fish
Story and Photos by Ryan Lynch
I know the term for a skier who doesn't have a clue what he is doing is a "gaper," but what's the term for someone who doesn't have a clue about fly fishing?
Not knowing this probably qualifies me for whatever that is. I want to learn how to fly fish, maybe because I've watched A River Runs Through It a few too many times. In any case, I've only been fly fishing a few times and have begun to think it might be a myth that people catch fish this way.
When I decide to try one more time, the first thing I do is go to the local fly shop in Driggs to get a fishing license. I've lived in Teton Valley, a world-class fly fishing destination, for the three-and-a-half years, and sadly have never bothered to get a license. The guy in the shop looks the part of a fishing guide, so I ask him where I should go. Should it be Henry's Fork of the Snake River, South Fork of the Snake, the Teton River? He suggests Henry's Fork, says they're biting on nymphs, and then helps me pick out a few fly patterns. I rush home and thumb through Fly Fishing for Trout in Streams. How does one use these nymphs? I know at least that nymphs are for subsurface fishing, so I thumb through that section. Looks like I'm going to need some tippet material and strike indicators. The pictures in the book show I will be attaching the indicator to my lead line and then tying a few feet of the material called tippet onto that, which will have my nymph on the end. The book says the strategy is the nymph will be a few feet underwater, and I will watch the indicator to see if I have hooked a fish.