Irish Coddle/Punch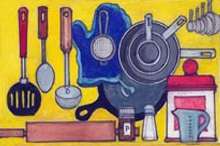 By Amy Story Larson
Lost River Irish Coddle
INGREDIENTS
1 lb. smoked or smoked w/ honey bacon
1 lb. link sausage
2 cloves of garlic
2 yellow onions
¼ c. fresh parsley
1 lb. sweet potatoes
1 c. beef broth
1 tsp. powdered garlic
Salt and pepper to taste
Pinch of cayenne, optional
PREPARATION
> Everything goes right into the slow cooker for four-plus hours. When meat is thoroughly cooked and flavors have been allowed to play nicely together, you're good to go.
NOTE: This is one fun St. Patrick's Day "throw together", combine everything in the morning, and have plenty of time that night to go out and see performances by groups like the traditional Boise Highlanders.
Coddle: An Irish dish, often made to use up leftovers. Due to this, for the most part, "coddles" usually have no specific recipe.
St. Patrick's Day is special for our family. Brother-in-law Lloyd Blackstone practiced and practiced in the early 2000s to become a member of the Boise Highlanders. Called the Ghost Piper, Lloyd has a habit of climbing to canyons and mountaintops with his bagpipes, putting music out into picturesque Idaho. Not long ago, he summited Mt. Borah, Idaho's highest peak, and played the bagpipes over the valley below.
*Recipe adapted from FitsSlowCookerQueen.com
Green Canyon Punch
INGREDIENTS
1 bottle Green Berry Rush Hawaiian Punch™, chilled (1 gallon or 3.78L)
2 6-oz. cans Dole Pineapple Juice™, chilled (1.5 cups)
1 2-litre bottle of Sprite™, chilled
2 Tbsp. vanilla extract
Juice from ½ of a fresh lime
PREPARATION
> Keep everything chilled until showtime, then combine punch, Sprite, juices, and extract in a punchbowl big enough for the party. Stir well, add some festive green-colored ice if desired. This will serve 20-plus guests.
NOTE: Haven't been there for decades, but the old Green Canyon Hot Springs was the site of one of my fondest memories, one of the best double dates I'd ever been on as a youth. Four of us spent the day on snowmobiles on nearby trails, getting stuck in the high snow multiple times (and laughing over it). Won't ever forget the feel of the powdered snow on my face, as we jumped over drift after drift.
We then soaked at the nearby hot springs, and got juicy hamburgers and crispy fries afterwards.
It was just one of those magical days.
*Recipe adapted from one found at bloglovin.coma