Jack of Hats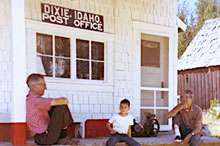 In the Heart of Dixie
By Max Jenkins
My dad, always a character, was in a showoff mood one day in late July 1975 when he told my two children, "I know the most important man in Dixie—the mayor—and I have permission to call him by his first name. I'll introduce you to him."
At the time, my family and I were living in Glen Ellyn, a western suburb of Chicago. We had taken a two-week vacation to visit my parents in Grangeville, where I was raised.
Mayor Jack turned out to be a man of many hats, and a character to rival my dad. But before I introduce you to him, let me describe how we came to be in Dixie, an old mining town at the edge of the Gospel-Hump Wilderness, about thirty-three miles south of Elk City.
My parents lived on the south side of Grangeville, where they had a windbreak to slow down the wind that rushed across the Camas Prairie. On our first morning in Grangeville, I marched my family out to see the windbreak, where I spent many hours weeding and watering. They were not impressed.