Jake's John Hancock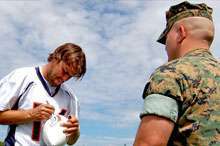 A Sports Junkie's Reward
By Garth Profitt
I'm shopping in a second-hand store, looking for a shade umbrella for my street vending business, when I see an autographed baseball sitting on the shelf all by its lonely.
Three dollars. The clear plastic that encases the ball is a mess, smeared with grease, fingerprints, and grime. I can't read a name on the ball but what the hell, three dollars. I've been into sports all my life and have little to show for it, so I decide this will be my showpiece. I put the ball in my shopping cart.
On the way home, I wonder what names might be on the ball. Probably the team members of some summer rec league. Perhaps a minor league club. Or a major league team. It could be Babe Ruth, Lou Gehrig, and the rest of the 1927 Yankees, you never know. At home, the cleaning begins and forty-five minutes later, the plastic looks like new. The enclosure has a seam down its center. I twist slowly, as if opening a fruit jar, until it comes apart. There lies the baseball, inscribed with names in black ink, looking like it hasn't been touched by human hands since it was enclosed.
Wade Boggs is the first name I see. I know of Boggs, the Boston Red Sox's American League batting champ. My heart lights up—for three bucks, I have Wade Boggs. Then I see Andy Pettitte of the New York Yankees and Jack McDowell from somewhere. Holy cow, I think, it's an American League All Star game baseball. Gold, gold everywhere! Cigars, pink Cadillacs, the Caribbean, here I come. I see the names Mariano Rivera, David Cone, Bernie Williams. It's a Picasso of baseballs, I'm in fat city.