Corned Beef/Potato-Bacon Waffles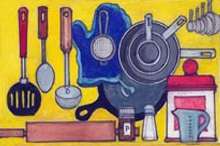 By Amy Larson
Aunt Betty's Corned Beef Bake
Ingredients
2- 8 oz. containers of crescent roll dough
1 pound Swiss cheese, sliced
1-1/4 pounds sliced deli corned beef
1 can (14 ounces) sauerkraut, rinsed and well drained
2/3 cup Thousand Island salad dressing
1 egg white, lightly beaten
1 packet of corned beef seasoning, use sparingly at your discretion (or omit), season to taste. Or, use the following: allspice, coriander, mustard seed, pepper, cinnamon, cloves, ginger, or dill seed to taste.
1 tsp. caraway seeds
Preparation
Preheat oven to 375 degrees. Secure one container of crescent dough onto greased 13" x 9" baking dish. Bake until golden. Layer cheese and corned beef over baked dough.
In a separate bowl, mix Thousand Island and sauerkraut, then spoon over cheese and corned beef. Add the remaining cheese. Roll out second container of crescent dough so it forms a seamless rectangle, then put on top of other layers. Brush with beaten egg white and garnish with caraway seeds.
Bake approximately 12-15 minutes.
Note: Our Great Aunt Betty was as Irish as they come. Red hair, sparkling eyes, she had a Minnesota accent and called us all "Doll Baby". In her later years, we'd visit her in her Mesa, Arizona apartment where she'd have the grandkids and grand nieces and nephews over for what she called the "Wednesday Night Special". (This often included crumbled potato chips for a topping, perhaps the equivalent of a 'hot dish' in Minnesota).
She enjoyed her "The Price is Right" show, had stacks of magazines for us to flip through, and her home was always one of welcome. On one of her birthdays, her kids and grandkids presented her with a music box that played, "When Irish Eyes are Smiling", and she openly wept.
I think Aunt Betty would have liked knowing her name was put to an Irish-style corned beef bake.
Potato-Bacon Waffles
Ingredients
2 Tbsp. vegetable oil or bacon drippings
1/4 c. buttermilk or whipping cream
2 large eggs
6 strips of cooked bacon, crumbled
2 1/2 c. homemade or instant mashed potatoes
3 Tbsp. finely chopped green or white/yellow onions
1 Tbsp. minced garlic
1 c. shredded sharp cheddar cheese
1/2 c. flour
1/2 tsp. baking powder
¼ tsp. baking soda
Sour cream or Greek yogurt for serving
Dash of powdered garlic, pepper to taste
Preparation
Heat up your waffle maker, apply cooking spray.Combine buttermilk or whipping cream, eggs, and oil in large bowl. Add mashed potatoes, bacon, chives or onions, and the shredded cheese.
In another bowl, combine dry ingredients. Add dry ingredients to potato combination. Put mixture onto waffle maker, careful not to overwhelm it with too much. This will require a little spreading over the surface. Cook until a golden color and crispy on the outside.
Top with sour cream, Greek yogurt, or the toppings of your choice. Garnish with paprika, chili powder, a touch of cayenne pepper, etc.
Note: My daughter-in-law, Jessica Ellis Story ("Jess"), is an amazing, creative cook that's always trying something new. When she presented waffles filled with bacon and cheese, let's just say the crowd went wild. It's no small wonder our family likes to linger in the vicinity of her kitchen. This is Jess's basic recipe, with some spuds thrown into the mix. Thanks for the idea, Jess!
These recipe pages are brought to you by the Idaho Dairy Council