Jalapeño Squash/Rhubarb Cobbler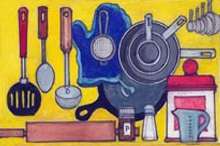 By Amy Story
Chicken Bacon Jalapeño Squash
INGREDIENTS
2 medium spaghetti squash
Olive oil spray
4 slices cooked bacon
1/2 medium yellow onion
2 cloves (or more!) minced garlic
3 c. cooked chicken, diced or shredded
1/3 c. barbecue sauce
1/2 c. shredded Monterey Jack or sharp cheddar (or a combo)cheese
1/4 diced red onion
2 (or more!) thinly sliced jalapeños
Chopped cilantro
1/2 c. fried onion
PREPARATION
> Set oven to 400 degrees.
> Microwave whole squash 4-5 minutes to make cutting easier.
> Prep pan with olive oil, place cut squash face down, roast 30-40 minutes, longer if needed. They're fine when you can easily pierce a fork through the outer skin.
> Meanwhile, dice and sauté bacon, set aside. Add onion and garlic with salt and pepper, cook.
> In a bowl, combine chicken with barbecue sauce, onions, garlic, and half the bacon.
> Sprinkle inside of squash with salt and pepper. Remove some of the squash to combine with filling in bowl.
> Fill squash halves, reduce oven to 350 degrees, place cheese, onion, jalapeño, and remainder of onion on the halves.
> Bake on middle rack for 15-20 minutes. You'll want the cheese to be melting and a bit browned.
> You may top this with cilantro, parsley, a drizzle of honey, some extra barbecue sauce, hot sauce, crispy fried onions, or Parmesan cheese.
Note: How have I been alive this many years without falling in love with spaghetti squash? It was served to me not even ten days before this writing, and I am making it again on this very evening. The texture…why has no one ever told me about the texture of spaghetti squash? I feel cheated. This scrumptious recipe is perfect for a cool autumn evening.
Rhubarb Cobbler
INGREDIENTS
For the filling:
2-3 c. chopped rhubarb (can be frozen)
2/3 c. brown sugar
1 Tbsp. vanilla
Sprinkling of black pepper (optional)
2 Tbsp. flour
For the topping:
1 pkg yellow cake mix
1 cube chilled butter
PREPARATION
> Combine filling ingredients and spread into a deep baking dish, preferably glass.
> Sprinkle cake mix evenly over filling, then slice the butter cube, placing slices at intervals over top of entire mixture.
> Bake at 375 degrees for about 20 minutes, or until cake crust is the soft or crispy consistency that suits your liking.
Note: I've heard this method called "Dumpit" cobbler, by the likes of Grandma Roma, Wild River Bill, and other characters. It serves well when a chilly night calls for a comfort-style dessert. Of course this can be used with any fruit fillings, such as berry filling with chocolate cake mix and maybe some mini-marshmallows and/or mini-chocolate chips on top. Or true strawberry filling with vanilla or lemon cake mix, etc. Enjoy!