Jambalaya/Minty Shake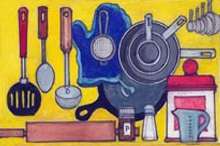 Hinsel Scott's Jambalaya
INGREDIENTS
1-2 quarts shrimp (peeled)
1 pound cooked pork sausage, sliced crosswise
1/3 inch thick
2 c. diced, cooked ham
1 large onion, 3-4 stalks celery, 1 small bell pepper, minced garlic (to taste)
1-14.5 oz. can diced tomatoes with juice
1 large can tomato soup, tomato paste, or sauce
1 teaspoon "Cajun" seasoning
Rice, enough for 2-3 cups cooked (or more, if desired)
2 c. water
2-3 bay leaves
Parsley (to taste)
Thyme (to taste)
Salt and pepper (to taste)
Hot sauce (to taste, the brand of your choice,
although Crystal® is a good one)
PREPARATION
In a significantly large skillet, cook the "trinity" of chopped onions, minced garlic, and chopped green pepper with celery in bacon drippings or cooking oil until the onions are browned.
Add in parsley, cubed ham, thyme, and bay leaves. Cook for five more minutes, stirring often. Add salt, hot sauce, tomatoes with juice, tomato sauce, and 2 cups of water, and simmer for another five minutes. Add in rice, then reduce heat and cover for 30 minutes.
Important: Stir only once, when adding in rice. After 30 minutes, add in shrimp and sausage, then cover and simmer for another 10-15 minutes or until rice is tender and has absorbed the liquid. Season to taste with salt, pepper, and more hot sauce.
NOTE: Hinsel Scott is a Louisiana native gone Idahoan who has become involved with Treasure Valley hot air balloon operations, and has a gold claim at an undisclosed location up in the hills that he works regularly. He says traditional New Orleans' jambalaya originated in the Caribbean Islands, and is a cousin to "paella". Since the Spanish settlers had difficulty making paella in the New World without saffron, their closest attempt morphed into something unique. He says that Creole jambalaya has tomatoes, while Cajun jambalaya does not.
He tells us, "This kind of cooking was in Grandma's blood. I don't remember ever seeing her measure anything. She was a master. For that reason, parts of this recipe might lack exact measurements. How much rice? Well, 'enough to take care of the water.' How much garlic? 'How much you like, honey?' That's what Grandma would tell you, if she was teaching you to make it, and those are pretty much the instructions she left in the old family cookbook. This is one of my favorite dishes to make for parties or the holidays, a nice, simple way to get a little Cajun flavor when you're low on cash for seafood ('cause you can always add more rice!) or just don't want to anger the Creole gods by making a less-than-perfect gumbo."
Minty March Shake
INGREDIENTS
1 ½ c. vanilla bean ice cream
(the higher the quality, the better)
½ c. whole milk (you could even use
half-and -half for extra richness)
Green food coloring (keep adding drops
until shake is desired color)
1 tsp. peppermint extract
Whipped cream
Maraschino cherry for garnish
PREPARATION
Blend ice cream, milk or half and half, food coloring, and extract until well-combined and smooth-looking. (This doesn't take long). Spoon mixture into a large glass, top off with whipped cream if desired, and place the maraschino cherry as a finishing touch.
Variations: Could add mini chocolate chips, mini white chocolate chips, crushed peppermint candy, mini M and M's, or bits of candy bar.
NOTE: At the Story-Larson home, St. Patrick's Day has always meant a surprise breakfast of green scrambled eggs, ham, and green milk.
"How did that happen?" I'd ask the kids when they were younger. "It must've been the leprechauns!"
They knew, of course, but that didn't make it any less fun. March also meant "shamrock" shakes, so this copycat recipe of the fast-food version will satisfy that year-round craving.
These recipe pages are brought to you by THE IDAHO DAIRY COUNCIL.