Woman of the Wilderness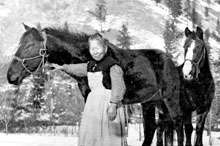 The Polly Bemis Story
By Brian D'Ambrosio
While working recently on a book about the history of cinema in Montana, I came across Polly Bemis, a Chinese-American pioneer who lived in Idaho in the late 19th and early 20th Centuries.
Her story became a biographical novel, and was fictionalized in the 1991 film A Thousand Pieces of Gold. Polly was portrayed in the film by actress Rosalind Chao, who told me Bemis was revered in Idaho in her day. The film's director also lauded her, which prompted me to research her life in Idaho.
I discovered that when Polly died in a Grangeville hospital in 1933 at age eighty-one, she was considered by chroniclers of the time to be among the best-known characters from Idaho's gold rush days. She was taken to the hospital that summer from her isolated ranch home near the mouth of Crooked River on the Big Salmon River in the Chamberlain Basin, where she spent most of the sixty-five years she lived in this country.