June 2020 Calendar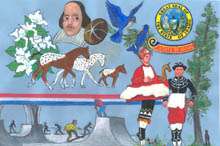 By Les Tanner
Many cancellations or changes in these events are likely to occur because of concerns about Covid-19. We nevertheless show them here, because one goal of the magazine, including the Calendar, is to show what life in Idaho is about. Double-checking with event coordinators about the following locations, dates, and times is highly recommended.
Statewide
13 Free Fishing Day
Northern Idaho
2 Hungry Heroes Breakfast: Complimentary Veterans Breakfast, 8 AM, Garden Plaza, Post Falls
4 Long Camp Annual "Classics on the Clearwater": Kamiah
5 Family Day: Annual Kick-off to Summer. Over 100 vendors, games, activities, music, food court, discounted museum admission, interactive displays, and more. 12:00 pm – 6:00 pm! City Park, Coeur d'Alene
5 Movie Night: Free. 6:00 pm – 8 PM, Salvation Army Kroc Center Theatre, Coeur d'Alene,
6-7 "Big Water Blowout River Festival" Whitewater Event: Family fun, action, adventure, thrills on the Salmon River, Riggins
13 Fishing Derby: In conjunction with Free Fishing Day. 9:00 am – 11 AM, City Park, Rathdrum
17-20 Gyro Days and Lead Creek Derby: Wallace
19-20 White Bird Days and Rodeo: White Bird
20 Art Guild Show: 8 AM, White Bird
20-21 CVRA Annual Rodeo "Biggest Little Rodeo in Idaho": Kamiah
26 Baked Potato Bar Dinner: 4:30 – 6:00 PM, Lake City Center Banquet Room, Coeur d'Alene
27 Craigmont June Picnic: Craigmont
27 Palouse Writers Festival: 1912 Center, Moscow
Southwestern Idaho
1 Summer Reading Program Begins: Public Library, Caldwell
2 Kilroy Coffee Klatch: 10 AM – Noon at Nampa's Warhawk Air Museum; FREE for ALL veterans and ALL veterans are welcome; Coffee and breakfast treats are served at no charge.
No RSVP required – just show up; Nampa
3 Adulting 101: Learn the basics of raising backyard farm animals. Ages 15+. 6:30 PM, Public Library, Caldwell
3,10 Summer Concert Series: Concerts start at 5pm and last until 8 PM, and are free to attend. The Grove Plaza, Boise
5 Silver Screen on the Green- "Frozen 2″:
8:30 PM, Optimist Park, Nampa
6 Family Summer Palooza: 10 AM to 5 PM, Center Expo, Expo Idaho, Garden City
6 Museum Work Day: Volunteers welcome; 8AM; Lunchtime Seminar (bring your own lunch), Speaker, Bill Clark, "Biodiversity Survey in San Basilio Cal Sur, Mexico". O.J.Smith Museum of Natural History, Boone Hall, The College of Idaho, Caldwell
6 Farmstead Tours: 12:30 PM, Schick-Ostolasa Farmstead, Boise
6-7 SRRSCCA Auto Cross: West Parking Lot, Expo Idaho, Garden City
7 Art and Roses: This beautiful outdoor art event showcases Idaho's fine artists with all original work- no prints or crafts. A portion of all sales will benefit the Julia Davis Memorial Rose Garden. Show is produced by the Idaho Centennial Art Group in partnership with Boise Parks Department. Admission is free. Julia Davis Park near the Rose Garden. Boise
11-12 Deli Days: Admission, free. Boise
12 Silver Screen on the Green- "Alladin": 8:30 PM, Optimist Park, Nampa
13 WalkAbout Boise Historic Walking Tour: 11 AM. Meet at the Bench in front of Basque Museum, Boise
13 Make It: Painting with Acrylics: Ages 13+.
2 PM, Public Library, Caldwell
19 Silver Screen on the Green- "Smallfoot": 8:30 PM, Optimist Park, Nampa
20 Dads & Donuts: Make a craft and enjoy some donuts with Dad. All ages. 11 AM, public Library, Caldwell
26 Silver Screen on the Green- "Dolittle": 8:30 PM, Optimist Park, Nampa
26-27 Friends of the Public Library Book Sale: 10 AM to 4 PM, Public Library, Caldwell
26-28 World Village Festival: 4:00 PM, Cecil D Andrus Park (formally Capitol Park), Boise
30 Silent Book Club: Bring your book and enjoy some quiet re4ading time. 7 PM, Public Library, Caldwell
Southern Idaho
15-20 CSI Music Fest: 9 AM, CSI Fine Arts Center, Twin Falls
16 Southern Idaho Livestock Hall of Fame:
6:30 PM, Turf Club, Twin Falls
Eastern Idaho
6 XTREME Idaho: Trailers, boats, ATV's, backpacking, camping, hunting, paddle boards, kayak, fitness, cross country skiing, snowboarding, biking, dutch oven, photography, archery, food, bounce house, face painting, lots of demos and more! Free to attend. Pine Ridge Mall, Chubbuck
6-27 Music in the Park: SATURDAYS. Amrican Falls
7 Hummingbird Roundup: American Falls
13 ISJ Family Fun Day: 11 AM, Bannock County Event Center, Pocatello
13 Oldies Rod Custom Car Show: 9 AM,
Old Town Pocatello
18,25 Music on Main: A free, all-ages outdoor summer concert series in Teton Valley. 6-10 PM, City Park, Victor
19 Idaho Rocks Music Festival: 2 PM, Mountain View Event Center, Pocatello
20 Pebble Creek Music & Wildflower Festival: 3 PM, Pebble Creek Ski Area, Inkom
20 Downtown Days Art Fest: 9 AM, Old Town Pocatello
21 Father's Day: 10 AM, Zoo Idaho, Pocatello
26-27 Malad Valley Welsh Festival: 8 AM, City Park, Malad
26-27 Celebrate Blackfoot: Sprint Boat Races, Car Show, Snowmobile Races on the Jensen Pond, Blackfoot Ranch Rodeo, Pancake feed, fun vendors, Ping Pong Ball Drop and Fireworks. Bingham Memorial Hospital Liberty Fireworks Show starts at 10 PM on Saturday night, Blackfoot