Kickin' Chicken/Cream Chiller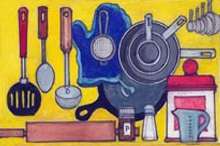 Mr. Brock's Kickin' Chicken
By Amy Larson
INGREDIENTS
6-8 boneless, skinless chicken breasts (about 2 lbs.)
3 cloves garlic
3 Tbsp. chopped onion
½ c. fresh parsley
½ tsp. black coarsely ground pepper
¼ tsp. cayenne pepper
½ tsp. paprika
½ tsp. cumin
1 tsp. salt
½ c. olive or coconut oil
1 ½ c. beer (optional)
PREPARATION
Combine all marinade ingredients, put in container with chicken breasts for a few hours (best if left to marinate longer), grill up chicken, and stand back. Hungry people will seek this.
Note from Amy: Mr. Brock was our childhood next door neighbor, a cheerful, whistling soul who liked to whittle wood. He had five acres that he allowed my sisters and me access to. Chestnut, cherry, apple trees with swings dangling from the branches, a lush garden, and this patient senior who was always "puttering" in his woodshop with birdhouses or gourds. Every summer he and his wife, Eletha, hosted huge neighborhood potluck picnics with a bonfire, volleyball competition, strung lights among the fruit trees, and lots of good barbeque.
Orange Cream Chiller
INGREDIENTS
3 oz. frozen orange juice concentrate, thawed
1 c. milk
1/2 c. plain Greek yogurt
1 small frozen banana, or
3 frozen strawberries
1 tsp. honey
1/2 tsp. vanilla extract
PREPARATION
Combine all ingredients in a blender. Blend on high until smooth.
Divide between two 12-oz. glasses and enjoy right away!
This recipe is from dairygood.org, courtesy of United Dairymen of Idaho.
This recipe page is brought to you by THE IDAHO DAIRY COUNCIL