Lasagna/Frozen Yogurt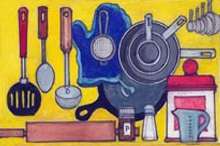 LaDelle Stephenson' s Four-Cheese Lasagna
INGREDIENTS
1 lb. ground beef
1 medium onion, chopped
2 garlic cloves, minced
28 oz. diced tomatoes, undrained
6 oz. can of sliced mushrooms, drained
1 can tomato paste
1 tsp. salt
1 tsp. dried oregano
1 tsp. dried basil
½ tsp. pepper
2 eggs
2 c. small curd cottage cheese
2/3 c. grated Parmesan
½ c. shredded cheddar cheese
1 ½ c. shredded mozzarella cheese, undivided
16 oz. lasagna noodles, cooked and drained
PREPARATION
In a skillet, cook beef, onion, and garlic over medium heat until meat is no longer pink, then drain. Place tomatoes in a blender, cover and process until smooth. Add to beef mixture, stir in mushrooms, tomato paste, and seasonings. Bring to a boil. Reduce heat, cover and simmer for 15 minutes.
In a bowl, combine eggs, cottage cheese, Parmesan, cheddar cheese, and ½ c. of the mozzarella. Layer half of the noodles in an ungreased 9" x 13" pan, then half of the cottage cheese mixture, and then half of the meat sauce. Repeat the layers. Cover and bake at 350 degrees for 45 minutes. Uncover, sprinkle with remaining mozzarella. Bake 15 minutes longer, or until cheese is melted.
NOTE: My sons, Taylor and Jared, have been long-time friends of LaDelle's son, James, and have enjoyed the benefits of having a friend whose mother is forever cooking something. "I think she loves through food," Jared once told me. LaDelle, the wife of a hard-working plumbing contractor and mother of three sons, seems to constantly be presenting something scrumptious for her family and friends to devour. The cooking gene was passed on to James, and when Jared had the good fortune of being James' roommate at school, he told me, "Whenever I looked bored or tired, James would make me something to eat." He added, "James was an awesome roommate."
Valentine's Frozen Yogurt Treats
INGREDIENTS
1 c. crunchy wheat and barley cereal
3 c. fat-free strawberry yogurt
1 (10-ounce) bag frozen unsweetened strawberries (about 2 1/2 cups)
1 c. fat-free sweetened condensed milk
1 c. light or fat-free whipped cream
Several strawberries, if available, halved
Shaved dark milk or white chocolate or mini-chocolate chips for garnish
PREPARATION
Line an 8×8-inch baking pan with foil. Sprinkle cereal evenly on the bottom of the pan; set aside.
Place yogurt, strawberries and condensed milk in a blender; cover and blend until smooth. Pour mixture over top of cereal, gently smoothing yogurt mixture to edges of pan. Cover with foil or plastic wrap and freeze for 8 hours or until firm. Use edges of foil to loosen and remove from pan; let recipe thaw for 5 to 10 minutes. Cut into squares or use a heart-shaped cookie cutter for Valentine's.
Top with whipped cream, if desired, and sprinkle shaved chocolate or chocolate chips for a garnish. Insert strawberries halves to finish the look.
Storage tip: These can be individually wrapped and frozen for single servings. Note: Feel free to create variations by using other flavor combinations of yogurt and fruit.
NOTE: The strawberry is said to symbolize "the sweetness in life", making it the perfect berry for the month of love. The heart-shaped fruit connoting passion is often called the "best of the berries", and has been used in stories and art throughout history. Legend has it that should you break a double strawberry in half and share it with your intended, you are certain to fall in love with one another.
Recipe courtesy of DairyGood.org
This recipe page is brought to you by THE IDAHO DAIRY COUNCIL.