Listen to the Music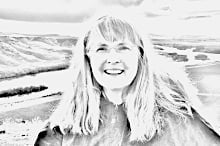 It'll Free Your Soul
By Diana Hooley
Once when I took my grandchildren and their dog Millie for a drive, the kids began to bicker in the back seat and Millie started to whine. I turned on the car radio, tuned it to a country-western station, and suddenly everyone calmed down. We listened to a song about a dad and his son getting some chicken at a drive-through. My grandchildren were charmed by the lyrics and even Millie seemed riveted, especially when she heard "chicken." When the children's mother, my daughter, called last week and said she felt anxious, I suggested she listen to music. It's not only good for your mood and appetite, but music reminds us of who we are and where we came from.
Neil Young is now an old man but I still occasionally listen to his snappy tune, "Are You Ready for the Country?" It takes me back to when I was a young woman living in Pocatello and going to summer school at Idaho State University. I'd just fallen in love with a farmer who would soon become my husband. We went on a romantic getaway to Lava Hot Springs, a half-hour south of Pokey. On the drive, we listened to Neil Young's Harvest album on the car's tape player and one of the tracks was, "Are You Ready for the Country?"
Music can motivate us to be more creative. Once I took a writing workshop with Boise State faculty member Jeff Wilhelm. He suggested we set aside our writing in the next session and instead bring our favorite music to listen to—music we loved and that might inspire us. A fellow writer brought Josh Ritter's folksy song, "Idaho." He said he liked to sit on his back porch in Burley and listen to Josh's song as he looked out over the hay fields to the Albion Mountains. The song made him feel peaceful.